Thomson Impressions is a new launch project by Nanshan Group Singapore Co. Pte Ltd. Targeted launch date is October or November 2015. Thomson Impressions is located in district 20 at Lorong Puntong, strategically located between 2 major roads, i.e. Sin Ming Ave and Upper Thomson Road. The development is well connected by public transportation. There are many buses serve the 2 major roads and it is near future Bright Hill MRT of Thomson East Coast Line. Thomson Impressions is within 1km from Prestigious Ai Tong School. Other nearby schools are Pierce Secondary School and Bishan Park Secondary School. It is also at close proximity to Thomson Plaza and Thomson area eateries. 
The name Thomson Impressions was chosen because the development, off Upper Thomson road, takes on the characteristics of the surrounding environment - the lush greenery, park and reservoir. Similarly the
development landscape is designed to reflect on these characteristics and giving a good impression of bringing the lush greenery into the development as well.
In addition, being located just off Upper Thomson road, it is a mark of distinction indicating a high standard of housing, surrounded by existing luxurious homes.
Thomson Impressions Project Details
Location: Sin Ming Avenue / Lorong Puntong (D20)
Developer: NS Property (Thomson) Pte Ltd
Project Description: Proposed residential flat development comprising 2 blocks of 19 storey building, 1 unit of 2 storey strata bungalow and 4 units of 2 strorey strata semi-detached with basement carpark levels, swimming pool and communal facilities.
Tenure: 99 year Leasehold with effect from 12 January 2015
Expected TOP: 12 October 2019
No of Blocks: 2 Tower Blocks & 5 Strata Landed
No of Storeys: 19 
No. of units: 288 units
Unit Distribution: 283 Apartments (1/2/3 Bdrm + Penthouses (4+Study), 1 Strata Bungalow and 4 Strata Semi-Detached
No. of Car Park: 288 lots + 3 Handicap lots
Site Area: 10,502.8 sqm / 113,052 sqft
 

Thomson Impressions Location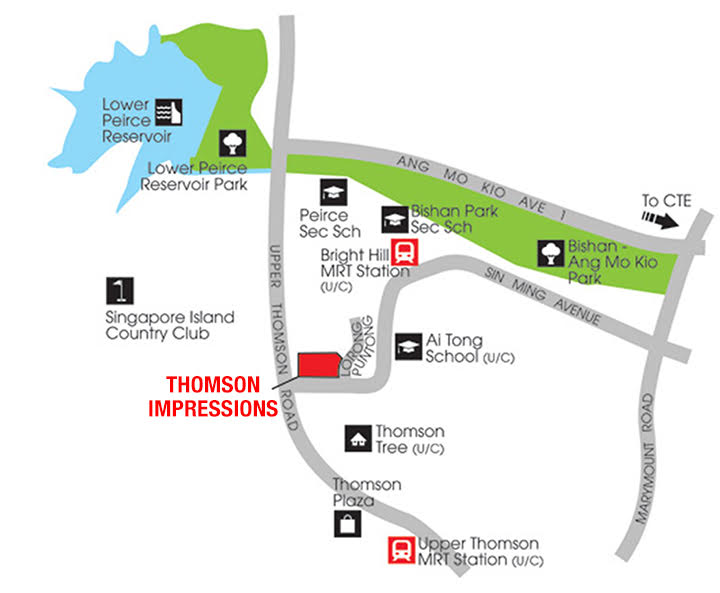 There are some private residential nearby the area, such as The Inglewood, Faber Garden Condominium, and Thomson View Condominium. The Location of Thomson Impressions is close to green area Island Golf Course. Take a closer look of the location of Thomson Impressions below from Street Directory map: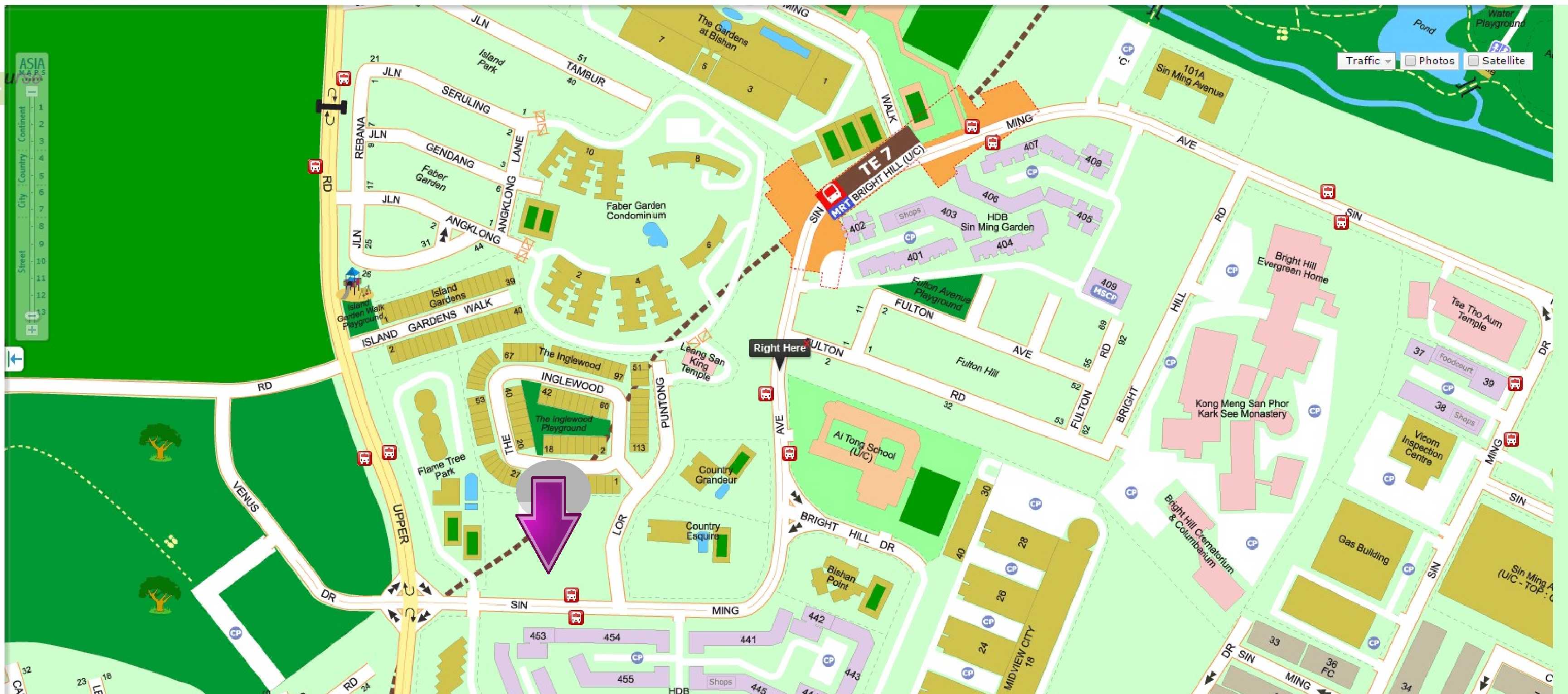 THOMSON IMPRESSION PANORAMIC VIEW
Why Thomson Impressions is a good buy
Location
Within City Fringe

Within 1 km to Ai Tong Shcool.  Ai Tong School is one of the most popular Primary Schools in Singapore and consistently ranked among the top Primary Schools & high demand for places. Other Schools nearby Thomson Impressions include CHIJ St Nicholas, Raffles Institution, Catholic High, Pierce Secondary School, Bishan Park Secondary School, Mayflower Secondary School, Whitley Secondary School.

Lack of supply of new residential units within 1km to Ai Tong School.

Served by 2 major Road: 1) Upper Thomson Road leading to town for 15 minute drive, and 2) Sin Ming Ave which has many buses.

Near future Bright Hill MRT of Thomson East Coast Line, travel direct to Orchard (7 stops) and Marina Bay (13 stops).
Amenities
Thomson Plaza (1 MRT stop away on future TEL Line. Tenants include FairPrice Finest, Yamaha, Amore Spa and eateries).

Junction 8 (One of the most popular heartland shopping malls. Anchor tenants includes NTUC and Golden Village).

AMK Hub (Shopping mall at Ang Mo Kio MRT. Anchor tenants include NTUC and Cathay).

Exotic restaurants along Upper Thomson Road.
Excellent Accessibility
Well connected by major expressways (minutes drive to 3 major expressways, i.e. PIE, CTE and SLE).

Easy drive to Orchard, CBD and Marina Bay.

Connect easily to East and West of Singapore via Braddell Road / Bartley Road and Lornie Road respectively.

The Thomson-East Coast Line (TEL) is a joint line between the Thomson Line and the Eastern Region Line.

The 43 km TEL will add 31 new stations to the existing rail network, with 7 interchange stations which will link to the East-West Line, North-South Line, North-East Line, CIrcle Line and the Downtown Line.

Commuters can start enjoying the TEL in stages from 2019.
Lifestyle
Near Singapore Island Country Club
Singapore Island Country Club is the oldest & most prestigious gold club in Signapore since 1891. It is a very exclusive golf club. The membership fee is over $200,000. With the kind of lifestyle near you you can expand your network by rubbing shoulders with the well-heeled.
Surrounded by Nature and Greenery
Along with the neighboring Central Catchment Nature Reserve, Bukit Timah houses over 840 species of flowering plants and over 500 species of fauna. MacRitchie Trails, located in the vicinity of the Central Catchment is a 20-km network of forest trails and boardwalks through the forest surrounding MacRitchie Reservoir. 
The Lower and Upper Peirce Reservoir Parks are known for their tranquil and scenic settings. The Lower Peirce Nature Trail Boardwalk is part of the Central Catchment Nature Reserve: 900m wooden boardwalk by the water's edge, sightings of native animals, occasional glimpses of native birds.
MacRitchie Reservoir Park spans a 12-hectare green haven bordering the country's first reservoir and the Central Catchment Nature Reserve.
Landscape highlight in the park is a near 100-metre vegetated gravel swale, which is complemented by a 40-metre submerged boardwalk.
Potential Growth and Capital Appreciation
There are very limited supply in the area, especially the 1 bdrm units. Nearby new development such as Thomson Grand and Adana @ Thomson starts with 2 bdrm units onwards. The existing developments such as The Gardens @ Bishan, Flame Tree Park, Esquire Gardens, Thomson View, Country Grandeur, and Bishan Point do not come with one bedroom type.
4 Stops from Future North Coast Innovation Corridor.
North Coast Innovation Corridor is a new economic corridor in the north. It is made up of Woodlands Regional Centre, future Seletar Regional Centre, redeveloped Sembawang Shipyard and Punggol Creative Cluster. This will create retail choices, jobs and opportunities within easy reach. Woodlands Regional Centre is set to be Singapore's Northen Gateway. It is comprises of Woodlands Central and Woodlands North Coast. 700,000sqm of new commercial space planned and more than 100ha of land for expansion. It is comparable to other regional hubs such Jurong Lake District and Tampines Regional Centre.
Quality Development: THOMSON IMPRESSIONS
* Full Facility
* Quality finishes
* Good distribution of type of units
* Functional layout
* Good density for the size of land
* Selected units get views of SICC or Lower Perce Reservoir
* Developed by reputable developer Nanshan Group Singapore Co. Pte Ltd
Having such attributes above we believe Thomson Impressions condo will have upside potential, especially given its proximity to town which is within short drive. And the Thomson Line MRT serving the area is a real deal for the owners as it travels direct to town and CBD area. This will translate to having capital appreciation and easily generate stream of income. We invite you to contact us for updates of this new launch condo.
Lorong Puntong - Government Land Sales
URA announced on 18 August 2014 that it released residential sites for sale under the 2nd half 2014 (2H2014) Government Land Sales (GLS) Programme. The closing date for tender for the land parcel at Lorong Puntong was 8 October 2014. The tender has drawn tight competition among 18 bidders, a surprising 3 times more participation compared to tender of Thomson Three site. On 13 October 2014 The Urban Redevelopment Authority (URA) has awarded the tender for the residential site at Lorong Puntong to Nanshan Group Singapore Co. Pte Ltd.  The company submitted the highest bid in the tender for the site.
The tender of Lorong Puntong was reported in the Straits Times News below
Nashan emerges top with $173.5m bid for Upper Thomson residential site at Lorong
PUBLISHED OCT 8, 2014, 7:09 PM, by Rennie Whang
SINGAPORE - A state tender for a private residential site in Lorong Puntong, off Sin Ming Avenue, has drawn the highest number of bids for a residential site in over a year. 
The close of tender on Oct 8 saw China-based Nanshan Group emerging as the top bidder out of 18 offers.
Private residential site in Lorong Puntong 
Source: URA
Nanshan's bid of $173.5 million works out to $731 per square foot per plot ratio (psf ppr).
The last time a private residential site saw such strong competition was in June last year at Faber Walk, where
Waterfront@Faber

is planned.
Mr Ong Teck Hui, national director of research and consultancy at Jones Lang LaSalle, noted that while the market has slowed, the top bid was higher than the $720 psf ppr paid for the nearby Thomson Three site in August 2012.
"The competition for the subject site was also much more intense, with 18 bidders, which is three times more than the six parties vying for the Thomson Three site," he said.
Mr Desmond Sim, Head, CBRE Research, Singapore, said the future Thomson Line would be a selling point to home buyers as the site is situated between two future MRT stations.
URA Lorong Puntong Land Sale brochure.
Singapore MRT Map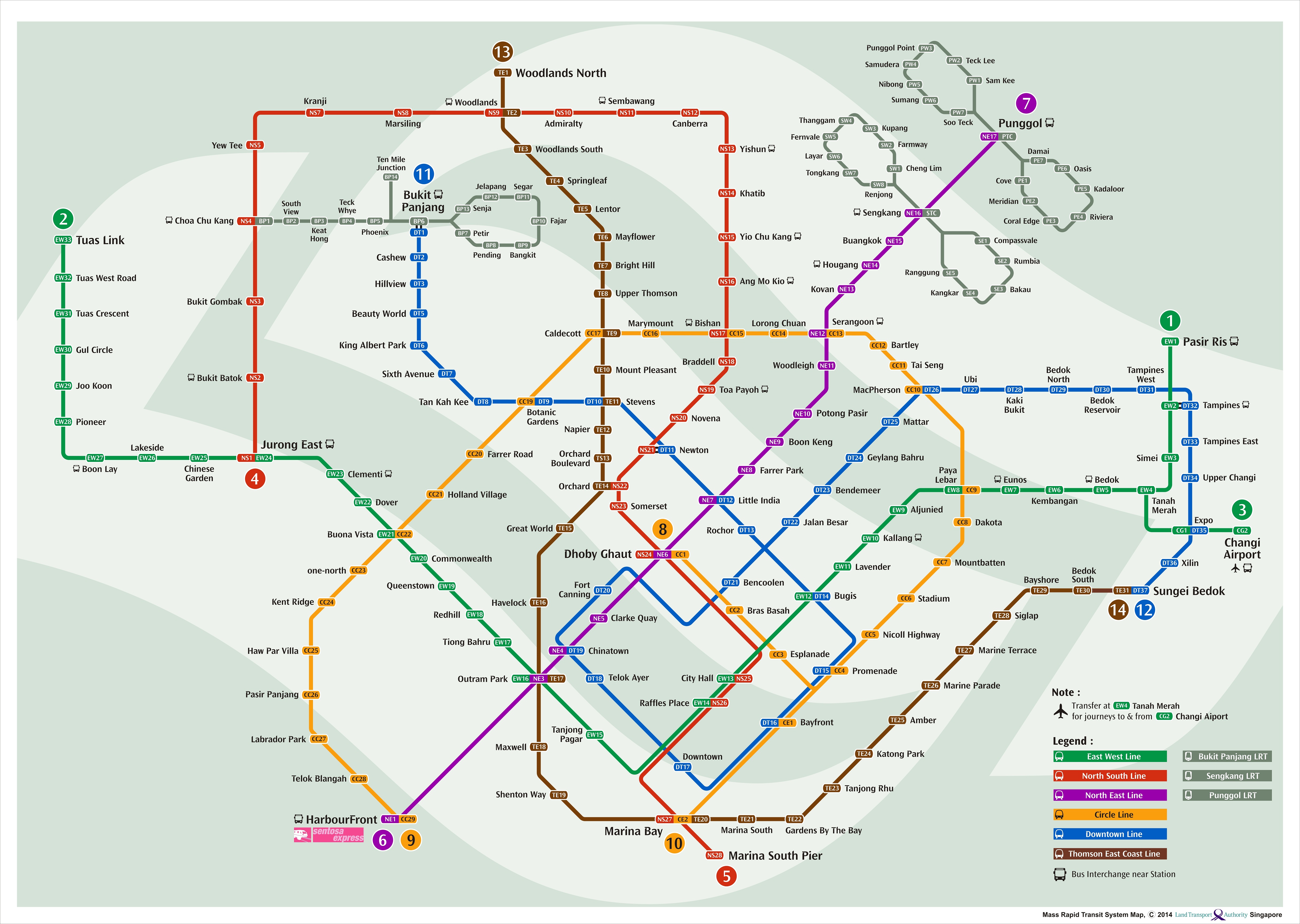 Thomson East Coast Line
Thomson Impressions is near Future Bright Hill MRT at Thomson East Coast Line. It is direct 7 stations to Orchard and direct 13 stations to Marina Bay. It is a sweet deal for investment as well as own dwelling. It is located in the green Thomson area while it will take only 15-20 minute to Orchard area and Marina Bay.
Update on Thomson Impressions Timeline:
15 Oct 2015

: VIP night
17 Oct 2015

: Showflat Viewing

 
 Thomson Impressions SITE PLAN
Thomson Impressions FLOORPLANS
(click to enlarge)
Thomson Area News
It is interesting to know D20 (Thomson/Bishan area) seems to be a lot vibrant than before. The area is on its way to have MRT stations to ferry residents to other parts of Singapore a lot easier. The MRT Line, Thomson East Coast Line, will even bring residents direct to Orchard, and Marina Bay, a deal not to be missed by investors. And besides that, the area is appealing to dwellers as it is closer to green parks, nature reserve and recreation, top school like Raffles Institution, and main road leading easily to town. Driving from Thomson area to town only takes around 15 minutes travelling on Thomson road. A couple of new developments are under constructions, i.e. Thomson Grand and Thomson Three, and for sure some more developments are on the way. Nashan Group has won the tender for its coming project Thomson Impressions. And today it is reported Shunfu Ville is up for collective sale.
News from Property Guru Sep, 2, 2015, by Romesh Navaratnarajah
Shunfu Ville Up For Collective Sale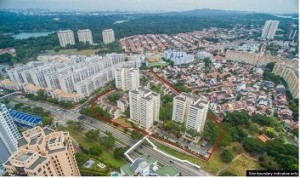 The 358-unit Shunfu Ville residential development in the highly sought-after Bishan/Thomson area has been launched for collective sale, revealed marketing agent JLL.
Built in the late 1980s by the former Housing & Urban Development Company (HUDC), Shunfu Ville was recently privatised in 2013, said Tan Hong Boon, Regional Director, Capital Markets at JLL.
Measuring 408,927 sq ft, the site is zoned residential with a gross plot ratio (GPR) of 2.8 under the Master Plan 2014, and could yield over 1,100 units with an average size of 1,000 sq ft.
"More than 80 percent of the owners have inked their consent to the collective sale, and they are expecting offers in excess of their minimum price of $688 million. This minimum price translates to a land rate of approximately $791 psf per plot ratio (psf/pr) on the potential GFA, after adding an estimated differential premium of $218 million payable to the State to top up the lease to a fresh 99 years and for intensification of use, subject to approval from the relevant authorities.
"At this rate, the estimated breakeven cost for the successful purchaser should be around $1,250 psf, with the new units expected to fetch between $1,400 psf and $1,450 psf. At the minimum price of $688 million, owners can look forward to receiving gross sales proceeds of at least $1.9 million per unit, or about 50 percent more than what they could obtain by selling their units individually," said Tan.
He added that the new project could have a height of up to 36 storeys, making it the the tallest residential development within a 1km radius.
The site is close to the Marymount, Bishan and future Upper Thomson MRT stations, while established schools like Ai Tong School and Raffles Institution are also nearby.
The tender exercise for Shunfu Ville closes on 27 October 2015.
News adapted from The Edge Property, Colliers International / By Michael Lim | September 23, 2015
A Good Class Bungalow at Windsor Park for $27 million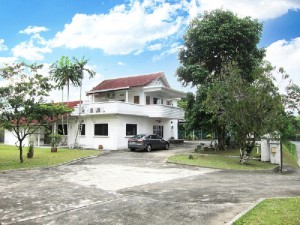 A Good Class Bungalow (GCB) in the Windsor Park GCB area located off Upper Thomson Road has been put up for sale by tender. The indicative price of the GCB is $27 million or $1,280 psf. The property sits on a freehold land area of 21,091 sq ft.
Sitting on the land is a 1950s bungalow, which can be redeveloped into a new GCB, according to Colliers International, the marketing agent for the property. The site is located on one of the highest vantage points in the estate. According to Colliers, there are only 34 GCBs in the Windsor Park estate. There are very few GCBs in the estate that are offered for sale. According to caveats lodged, the most recent transaction of a GCB in Windsor Park was more than two years ago when a GCB sitting on a 22,481 sq ft site was sold for $25.3 million ($1,125 psf) in Jan 2013. Another newly completed GCB at Windsor Park by Simon Cheong's private investment company, SC Homes, was sold for $27 million ($1,400 psf) in December 2012. The new GCB sits on a 19,280 sq ft of freehold site.
The GCB at Windsor Park that's on the market will be sold by tender that closes on October 21, according to Colliers.