Thomson Area News
It is interesting to know D20 (Thomson/Bishan area) seems to be a lot vibrant than before. The area is on its way to have MRT stations to ferry residents to other parts of Singapore a lot easier. The MRT Line, Thomson East Coast Line, will even bring residents direct to Orchard, and Marina Bay, a deal not to be missed by investors. And besides that, the area is appealing to dwellers as it is closer to green parks, nature reserve and recreation, top school like Raffles Institution, and main road leading easily to town. Driving from Thomson area to town only takes around 15 minutes travelling on Thomson road. A couple of new developments are under constructions, i.e. Thomson Grand and Thomson Three, and for sure some more developments are on the way. Nashan Group has won the tender for its coming project Thomson Impressions. And today it is reported Shunfu Ville is up for collective sale.
Shunfu Ville Up For Collective Sale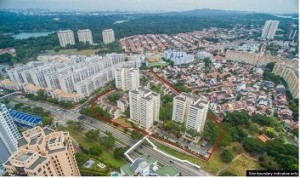 The 358-unit Shunfu Ville residential development in the highly sought-after Bishan/Thomson area has been launched for collective sale, revealed marketing agent JLL.
Built in the late 1980s by the former Housing & Urban Development Company (HUDC), Shunfu Ville was recently privatised in 2013, said Tan Hong Boon, Regional Director, Capital Markets at JLL.
Measuring 408,927 sq ft, the site is zoned residential with a gross plot ratio (GPR) of 2.8 under the Master Plan 2014, and could yield over 1,100 units with an average size of 1,000 sq ft.
"More than 80 percent of the owners have inked their consent to the collective sale, and they are expecting offers in excess of their minimum price of $688 million. This minimum price translates to a land rate of approximately $791 psf per plot ratio (psf/pr) on the potential GFA, after adding an estimated differential premium of $218 million payable to the State to top up the lease to a fresh 99 years and for intensification of use, subject to approval from the relevant authorities.
"At this rate, the estimated breakeven cost for the successful purchaser should be around $1,250 psf, with the new units expected to fetch between $1,400 psf and $1,450 psf. At the minimum price of $688 million, owners can look forward to receiving gross sales proceeds of at least $1.9 million per unit, or about 50 percent more than what they could obtain by selling their units individually," said Tan.
He added that the new project could have a height of up to 36 storeys, making it the the tallest residential development within a 1km radius.
The site is close to the Marymount, Bishan and future Upper Thomson MRT stations, while established schools like Ai Tong School and Raffles Institution are also nearby.
The tender exercise for Shunfu Ville closes on 27 October 2015.