Home Within The Green Oasis
If you have only 1 chance to invest in property, you will sit down and carefully list all benchmark a property should possess to come up as a winner at the end of the day. Traditionally you will fiercely question if the property is in the right location, if it has demand for tenancy, if it has a good transportation connectivity, if it has amenities, if it has future potential upside yield, and if the property is rightly priced. Any investor will tend to take action when the property possess these benchmarks.
HAUS ON HANDY
HAUS ON HANDY without doubt located in excellent downtown core central region, Dhoby Gaut, in district 9 of Singapore. It offers much more than the traditional investment benchmark. First and foremost it is located in Orchard Road area, a place well known by foreigners high and low, a place where the rich is proud of having such identity to be living in Orchard area, an area with excellent connectivity. HAUS ON HANDY located just next to Dhoby Gaut MRT station, and next to Plaza Singapura where you find anything you need for your daily necessity. It is also centrally located near the Central Business District where hundred of thousand of professionals commute daily on the busy weekdays.
You or your tenants will love the home at Haus On Handy. Apartment comes with a good size balcony so resident can enjoy the outdoor area within the home. The units have regular shapes so it leaves no room to waste. The layout is designed for privacy with bedroom doors away from living room area for its 2 and 3 bedroom units.
Apartments at Haus On Handy are built with excellent finishes and fittings. The living and dining area floor is made of quality marble, while the bedrooms's floor are engineered timber and is easy to clean. The apartment is equipped with smart home system. Residents can easily use the system to control the lights or aircon or booking of club house or inviting guests over, all at the tip of the finger.
Kitchen fittings and appliances are completed with international brands i.e. V-Zug and Bosch, sanitary fittings are Hansgrohe and Axor, while sanitary fitting is Villeroy & Boch. Kitchen is neatly done up with quartz worktop with LED lighting and backsplash complete shelves and charging stations. The bathroom is generous in size to guarantee convenience and comes with provisions that includes LED light mirror cabinet and the open shelves. All are very useful.
Haus On Handy comes with impressive condo facility which include the premiere residential service which will be helpful for residents to get some arrangement such as reservation, delivery acceptance, etc. Facility spread over 3 areas, swimming pool and garden sitting area, Sky garden area with yoga lawn, sky fitness, and rooftop lounge. The Clubhouse is located on the hill, on Mount Sophia Road. This is a beautiful conservation house with gym and several club suites and lounges. Residents will be pampered with the tranquility and scenery from Mount Sophia.
Haus On Handy also incorporate the nature in the condo vicinity. Plants relating to the history of early Singapore are planted in the vicinity. The condo will have some outdoor sitting area surrounded by plants such as gambier, nutmeg, coffee, clove and areca. Haus On Handy is trully a green theme condominium.
DHOBY GAUT
Dhoby Gaut, where HAUS ON HANDY located, is recently in the news for all good reason as one of the 4 Orchard Road precincts to be rejuvenated. Bring Back The Orchard! Dhoby Gaut is the real City in the Garden, with the existing heavenly green place of The Istana, and the Istana Park, and the historical Fort Canning Park. Indeed it is not enough for Dhoby Gaut, the already green and vibrant area will have much more. There is potential to enhance the connections between the open spaces to create a continuous green oasis comprising Istana Park, Dhoby Ghaut Green and Plaza Singapura. One possibility is to pedestrianise the section of Orchard Road at this location. Above Dhoby Ghaut MRT station, it is possible to introduce new family-friendly features and play areas for children within a lushly landscaped setting. A new sheltered event space will allow for a variety of public events to take place. These will add to the appeal of Orchard Road as a vibrant destination for families.
The Big revamp to turn Orchard into a more lively street was reported in Straits Times published Jan 31, 2019.  For more information please read here: https://www.straitstimes.com/singapore/big-revamp-to-turn-orchard-into-a-more-lively-street
Part of the ideas is exploring pedestrianisation part of Dhoby Gaut. The proposed road closure would involve the stretch between Buyong and Handy roads, or the Istana and the junction before The Cathay. Below illustration is taken from Straits Times graphics.

Recent news of Expansion of Istana Park part of plans to refresh Orchard Road was reported in Straits Times published on February 14,2020. Please read here for more detail: https://www.straitstimes.com/singapore/expansion-of-istana-park-part-of-plans-to-refresh-orchard-road
LOCATION MAP - HAUS ON HANDY
SHOWFLAT VIDEO TOUR
Please click below video to see the showflat of 1bdrm + Study and the 2 bdrm.
1 Bedroom + Study
Type A4Sa, 517 sqft
2 Bedroom
Type B4, 624 sqft
PROJECT INFORMATION
Project Name
HAUS ON HANDY
Developer
CDL Regulus Pte.Ltd.
(A Wholly-owned subsidiary of City Developments Limited)
Location / Address
28 & 30 Handy Road (Residential)
18 Mount Sophia (Club Haus)
District
09
Description of Property
2 blocks of 9 and 12 storey condominium development
No. of Units
188 residential units
Tenure of Land
99-year leasehold commencing from 7 May 2018
Expected Vacant Possession
31 July 2023
Site Area
Approx. 4,796.2 sqm / 51,626 sqft
Carpark Lots
Estimated 113 (excluding 3 handicap lots)
UNIT DISTRIBUTION CHART


| Type | Est. Area (sqft) | Total Units |
| --- | --- | --- |
| 1-Bedroom | 420 - 570 | 36 |
| 1-Bedroom + Study | 517 - 624 | 36 |
| 2-Bedroom | 592 - 764 | 58 |
| 2-Bedroom + Study | 678 - 926 | 32 |
| 3-Bedroom | 947 - 1141 | 20 |
| 3-Bedroom DK | 980 | 6 |
| | Total | 188 |
SCHEMATIC DIAGRAM
SITE PLAN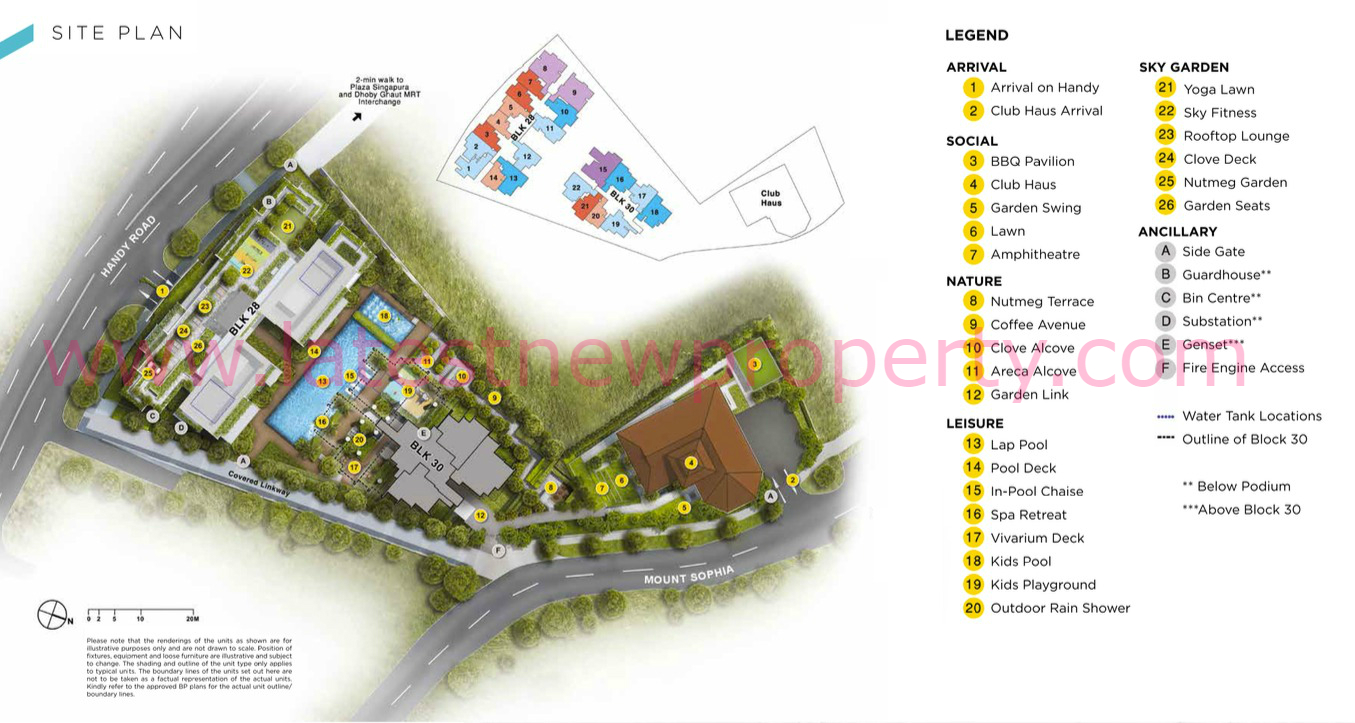 WHY HAUS ON HANDY
Location wise, HAUS ON HANDY is centrally positioned in downtown Orchard area where many local and foreign establishments operate. Central Business District is its neighbour, within 10 minute journey by train.
Transport connectivity is something to boast about. Plenty of public buses come from and travel to many parts of Singapore. In addition, Dhoby Gaut MRT station which is just in front of Haus On Handy is the interchange of 3 MRT lines, i.e. North South line, North East line, and Circle line. It is also a stroll walking to Downtown line MRT station (Bencoolen MRT). Amenities are at the corner of the road where residents can do grocery shopping, banking, dining, and doing other shopping. World class high end retailers are also a short trip from Haus On Handy.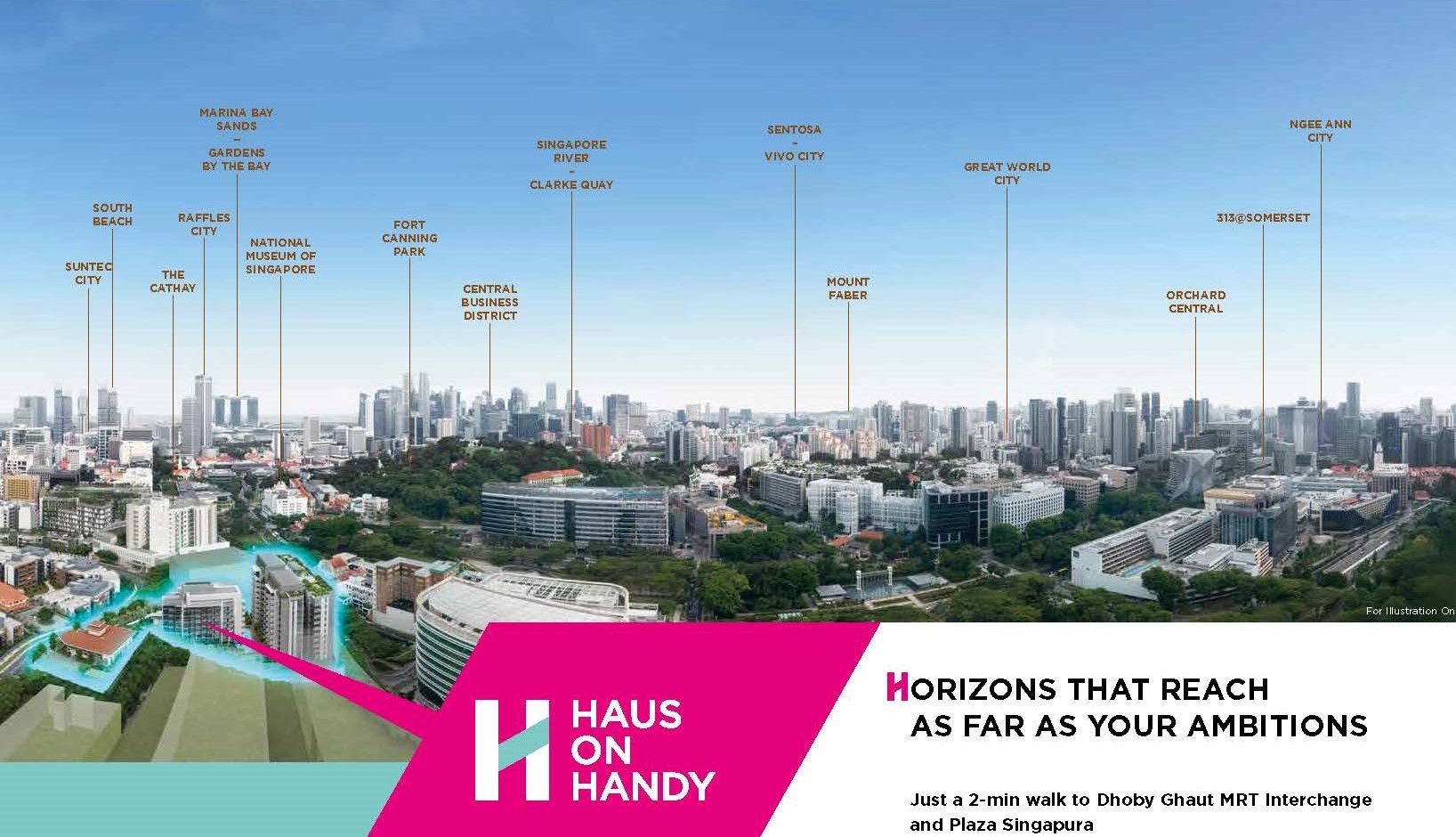 The unit is fitted with new & quality branded finishes. The impressive condo facility with theme gardens and unique club house experience at the heritage bungalow up in the hill comes with signature residential hosts offering curated conceirge services.
Not to forget that Dhoby Gaut is rich with history. Heritage buildings and sites are witness to the journey of Singapore from centuries ago. While living in the modern and vibrant Orchard area, being surrounded by historical sites and buildings is priceless experience.
Haus On Handy is near reputable schools, from primary school level all the way to tertiary and university level, among others: St. Margaret's Primary School (<1km), Anglo-Chinese School (Junior) (<1km), Chatsworth International School (Orchard) (<1km), Singapore Management University (<1km), School of the Arts (<1km), Nanyang Academy of Fine Arts (NAFA), Lasale College of The Arts, etc.

Plans to enhance Orchard Road as a Lifestyle Destination unveiled
The Singapore Tourism Board (STB), Urban Redevelopment Authority (URA) and National Parks Board (NParks) announced plans to strengthen Orchard Road's position as a must-visit lifestyle destination.
In order to strengthen Orchard Road's position as a lifestyle destination, the plans aim to offer experiences to bring out the unique identity of its four sub-precincts - Tanglin, Orchard, Somerset and Dhoby Ghaut.

We extract below the information on Orchard Road rejuvenation and Bring Back the Orchard from the URA official website for your benefit to have more information about future Orchard Road.
The Lifestyle Destination
Different precincts and side streets along Orchard Road can be strengthened and differentiated with the injection of innovative and unique non-retail offerings. There will be something for everyone on Orchard Road.
A Street of Discovery
Orchard Road is well known for its tree-lined boulevard, but there are also many interesting streets and lanes branching out from the main road that offer a sense of discovery to the Orchard Road experience.
Historic side streets like Emerald Hill and Cuppage Terrace can be enhanced; streets like Killiney Road and Orchard Turn can be activated to improve connectivity to the surrounding residential areas, and new lifestyle uses introduced off the main street.
1. New lifestyle experience at Tanglin
The conserved Tudor Court can house a greater diversity of uses, including arts and cultural offerings. The covered canal behind can be turned into an attractive courtyard space enlivened with public art and outdoor dining, making it a focal area for local residents and hotel guests.
2. New vantage point at Orchard/Paterson Road Junction
Elevated link-bridges can make it easier to cross the junction of Orchard and Paterson Roads, and provide opportunities to take the picture-perfect shot of Orchard Road.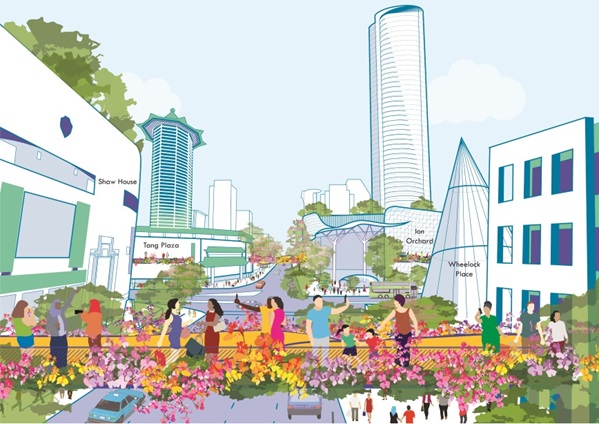 3. New mixed-use developments at Orchard Interchange
The vacant State Land parcels at Orchard Boulevard present opportunities for exciting mixed-use developments above the upcoming Thomson-East Coast Line Orchard Interchange MRT, which can also be connected to Orchard Road via bustling side streets.
4. New event space at Somerset
The car park at Grange Road has hosted retail and F&B events like Flashbang. With rapid evolving trends and demand for more events, the car park can be transformed into a dedicated events space with dining and entertainment use to form a cluster of lifestyle offerings with the Design Orchard showcase across the street. They can also be linked by sculptural canopies to create a signature node on Orchard Road.
5. New Lifestyle Uses @ Somerset 
We can work with the stakeholders to enhance the connectivity across buildings and introduce more lifestyle uses in this area.
We Extracted Information of Bring Back The Orchard below from https://www.ura.gov.sg/Corporate/Planning/Master-Plan/Regional-Highlights/Central-Area/Orchard-Road/Bring-Back-the-Orchard

Bring Back the Orchard
Orchard Road can be enhanced as an urban green corridor with lush planting and new green spaces, to remind us of the street's heritage while creating a memorable visitor experience and distinct precinct identity.
A Green Urban Corridor
Today, Orchard Road is lined with trees that give the boulevard its lush green character. This reminds us of the street's origin as a road lined with nutmeg and clove plantations as well as fruit orchards.
To strengthen Orchard Road's attractiveness as a highly walkable urban corridor between the Singapore Botanic Gardens and Fort Canning Park, one possibility is to introduce curated displays of vibrant tree and shrub planting along Orchard Road that depict the colours of the tropics.
New flowering trees and shrubs can also be introduced progressively to add colour and vibrancy to the street. This will be curated to create visual impact and strengthen the identity of the different precincts, thereby evoking a sense of journey befitting Singapore's reputation as a City in a Garden.
A Green Oasis in the City
The existing green open spaces above Dhoby Ghaut MRT station provide respite from the hustle and bustle of Orchard Road. The large mature trees, wide open spaces and pleasant shade stand in contrast with the surrounding hotels and shopping malls.
There is potential to enhance the connections between these open spaces to create a continuous green oasis comprising Istana Park, Dhoby Ghaut Green and Plaza Singapura. One possibility is to pedestrianise the section of Orchard Road at this location. This will allow us to link up existing green spaces with the surrounding developments, and open up more spaces for activities in the area.
Above Dhoby Ghaut MRT station, it is possible to introduce new family-friendly features and play areas for children within a lushly landscaped setting. A new sheltered event space will allow for a variety of public events to take place. These will add to the appeal of Orchard Road as a vibrant destination for families. We can also rejuvenate Istana Park with themed gardens inspired by the botanical and horticultural traditions and practices seen throughout Singapore's history.
A. Inclusive Playground at Dhoby Ghaut Green
A family-friendly play area within a pocket park with lush greenery for children of all abilities to explore and learn about nature in a fun manner.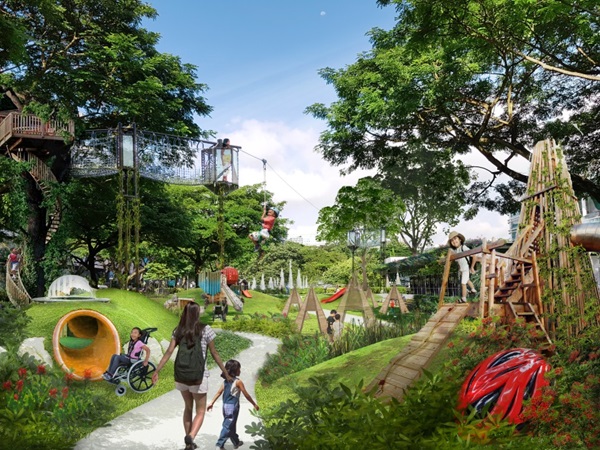 B. New Water-Play Features at Dhoby Ghaut Green
The water play features can reflect the original alignment of the Stamford Canal before it was redirected and allow children to interact with various water elements set within a lush park setting.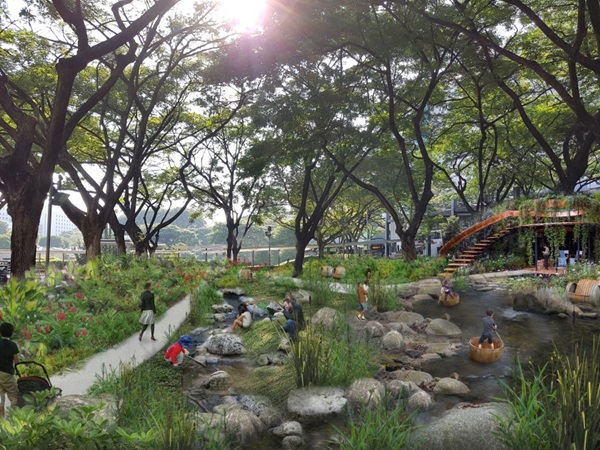 C. New Sheltered Events Space at Dhoby Ghaut Green
The all-weather activity lawn with a canopy can serve as a flexible events space to host various events from F&B festivals to fashion shows.
D. New Park Entrance @ Dhoby Ghaut Green
Dhoby Ghaut Green is envisioned as attractive and family-friendly, fronting the former Park Mall and linking to Dhoby Ghaut MRT Station.
Please also read more information on the Orchard rejuvenation here: https://www.channelnewsasia.com/news/singapore/more-greenery-street-activities-to-make-orchard-road-a-lifestyle-11185058
ABOUT CITY DEVELOPMENTS LIMITED
City Developments Limited (CDL) is a leading global real estate operating company with a network spanning 103 locations in 29 countries and regions. Listed on the Singapore Exchange, the Group is one of the largest companies by market capitalisation. Its income-stable and geographically-diverse portfolio comprises residences, offices, hotels, serviced apartments, integrated developments and shopping malls.
With a proven track record of over 55 years in real estate development, investment and management, CDL has developed over 43,000 homes and owns over 18 million square feet of lettable floor area globally. Its diversified global land bank offers 4.1 million square feet of developable gross floor area.
The Group's London-listed subsidiary, Millennium & Copthorne Hotels plc (M&C), is one of the world's largest hotel chains, with over 135 hotels worldwide, many in key gateway cities.
As a property pioneer, CDL has been honoured with numerous awards and accolades that reflect its commitment to its stakeholders. Many of these Corporate, Environmental and Project Awards have been conferred in recognition of its business excellence and ability to create and manage some of the world's iconic homes and state-of-the-art offices.
ICONIC HOMES BY CITY DEVELOPMENT LIMITED