Home Within The Green Oasis
If you have only 1 chance to invest in property, you will sit down and carefully list all benchmark a property should possess to come up as a winner at the end of the day. Traditionally you will fiercely question if the property is in the right location, if it has demand for tenancy, if it has a good transportation connectivity, if it has amenities, if it has future potential upside yield, and if the property is rightly priced. Any investor will tend to take action when the property possess these benchmarks.
HAUS ON HANDY
HAUS ON HANDY without doubt located in excellent downtown core central region, Dhoby Gaut, in district 9 of Singapore. It offers much more than the traditional investment benchmark. First and foremost it is located in Orchard Road area, a place well known by foreigners high and low, a place where the rich is proud of having such identity to be living in Orchard area, an area with excellent connectivity. HAUS ON HANDY located just next to Dhoby Gaut MRT station, and next to Plaza Singapura where you find anything you need for your daily necessity. It is also centrally located near the Central Business District where hundred of thousand of professionals commute daily on the busy weekdays.
You or your tenants will love the home at Haus On Handy. Apartment comes with a good size balcony so resident can enjoy the outdoor area within the home. The units have regular shapes so it leaves no room to waste. The layout is designed for privacy with bedroom doors away from living room area for its 2 and 3 bedroom units.
Apartments at Haus On Handy are built with excellent finishes and fittings. The living and dining area floor is made of quality marble, while the bedrooms's floor are engineered timber and is easy to clean. The apartment is equipped with smart home system. Residents can easily use the system to control the lights or aircon or booking of club house or inviting guests over, all at the tip of the finger.
Kitchen fittings and appliances are completed with international brands i.e. V-Zug and Bosch, sanitary fittings are Hansgrohe and Axor, while sanitary fitting is Villeroy & Boch. Kitchen is neatly done up with quartz worktop with LED lighting and backsplash complete shelves and charging stations. The bathroom is generous in size to guarantee convenience and comes with provisions that includes LED light mirror cabinet and the open shelves. All are very useful.
Haus On Handy comes with impressive condo facility which include the premiere residential service which will be helpful for residents to get some arrangement such as reservation, delivery acceptance, etc. Facility spread over 3 areas, swimming pool and garden sitting area, Sky garden area with yoga lawn, sky fitness, and rooftop lounge. The Clubhouse is located on the hill, on Mount Sophia Road. This is a beautiful conservation house with gym and several club suites and lounges. Residents will be pampered with the tranquility and scenery from Mount Sophia.
Haus On Handy also incorporate the nature in the condo vicinity. Plants relating to the history of early Singapore are planted in the vicinity. The condo will have some outdoor sitting area surrounded by plants such as gambier, nutmeg, coffee, clove and areca. Haus On Handy is trully a green theme condominium.
DHOBY GAUT
Dhoby Gaut, where HAUS ON HANDY located, is recently in the news for all good reason as one of the 4 Orchard Road precincts to be rejuvenated. Bring Back The Orchard! Dhoby Gaut is the real City in the Garden, with the existing heavenly green place of The Istana, and the Istana Park, and the historical Fort Canning Park. Indeed it is not enough for Dhoby Gaut, the already green and vibrant area will have much more. There is potential to enhance the connections between the open spaces to create a continuous green oasis comprising Istana Park, Dhoby Ghaut Green and Plaza Singapura. One possibility is to pedestrianise the section of Orchard Road at this location. Above Dhoby Ghaut MRT station, it is possible to introduce new family-friendly features and play areas for children within a lushly landscaped setting. A new sheltered event space will allow for a variety of public events to take place. These will add to the appeal of Orchard Road as a vibrant destination for families.

SINGAPORE MRT MAP
LOCATION MAP - HAUS ON HANDY
PROJECT INFORMATION
Project Name
HAUS ON HANDY
Developer
CDL Regulus Pte.Ltd.
(A Wholly-owned subsidiary of City Developments Limited)
Location / Address
28 & 30 Handy Road (Residential)
18 Mount Sophia (Club Haus)
District
09
Description of Property
2 blocks of 9 and 12 storey condominium development
No. of Units
188 residential units
Tenure of Land
99-year leasehold commencing from 7 May 2018
Expected Vacant Possession
31 July 2023
Site Area
Approx. 4,796.2 sqm / 51,626 sqft
Carpark Lots
Estimated 113 (excluding 3 handicap lots)

UNIT DISTRIBUTION CHART


| Type | Est. Area (sqft) | Total Units |
| --- | --- | --- |
| 1-Bedroom | 420 - 570 | 36 |
| 1-Bedroom + Study | 517 - 624 | 36 |
| 2-Bedroom | 592 - 764 | 58 |
| 2-Bedroom + Study | 678 - 926 | 32 |
| 3-Bedroom | 947 - 1141 | 20 |
| 3-Bedroom DK | 980 | 6 |
| | Total | 188 |
SCHEMATIC DIAGRAM
SITE PLAN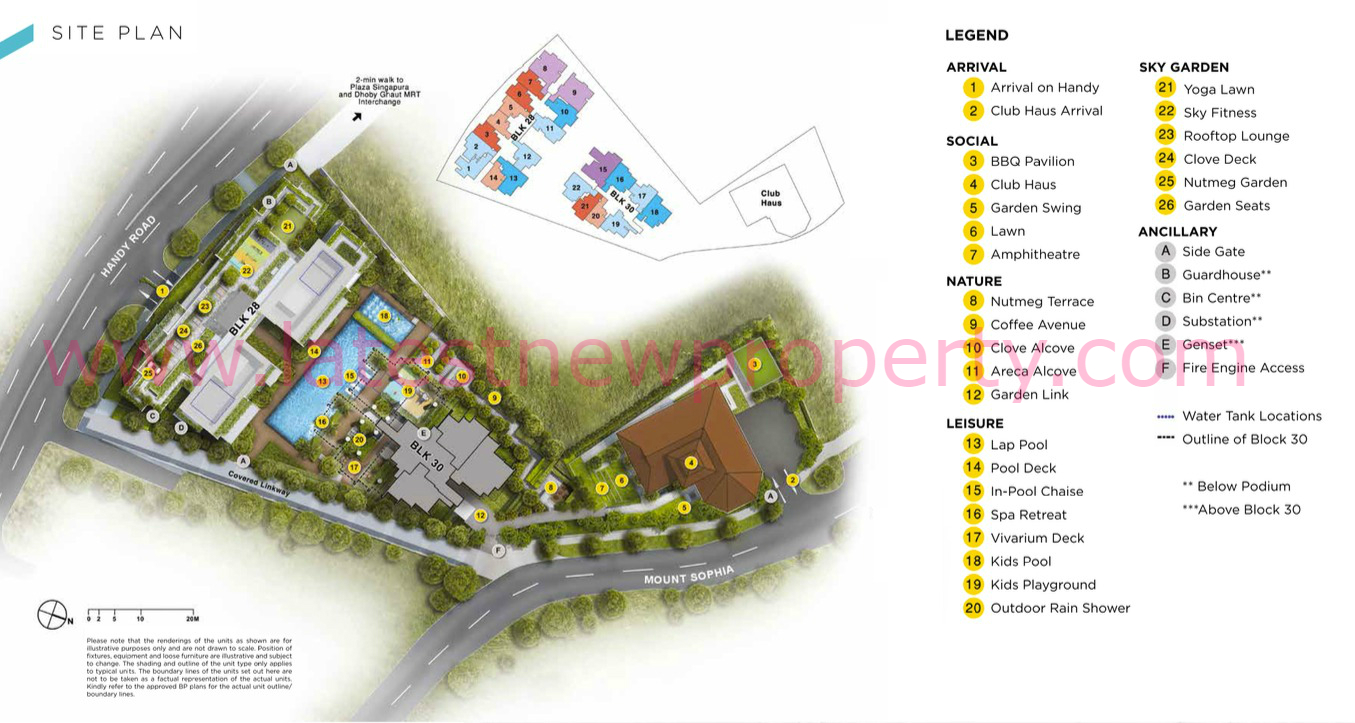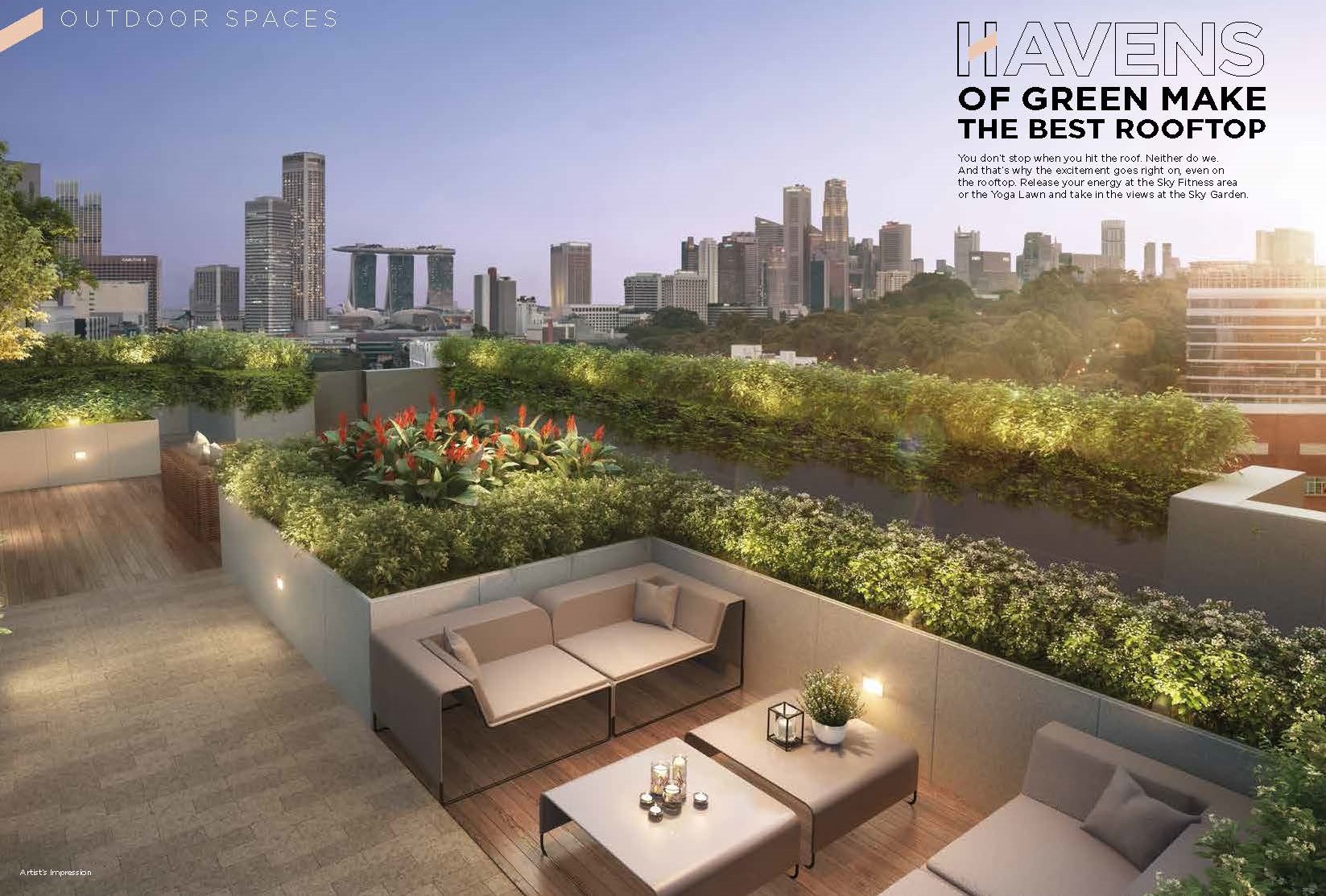 WHY HAUS ON HANDY
Location wise, HAUS ON HANDY is centrally positioned in downtown Orchard area where many local and foreign establishments operate. Central Business District is its neighbour, within 10 minute journey by train.
Transport connectivity is something to boast about. Plenty of public buses come from and travel to many parts of Singapore. In addition, Dhoby Gaut MRT station which is just in front of Haus On Handy is the interchange of 3 MRT lines, i.e. North South line, North East line, and Circle line. It is also a stroll walking to Downtown line MRT station (Bencoolen MRT). Amenities are at the corner of the road where residents can do grocery shopping, banking, dining, and doing other shopping. World class high end retailers are also a short trip from Haus On Handy.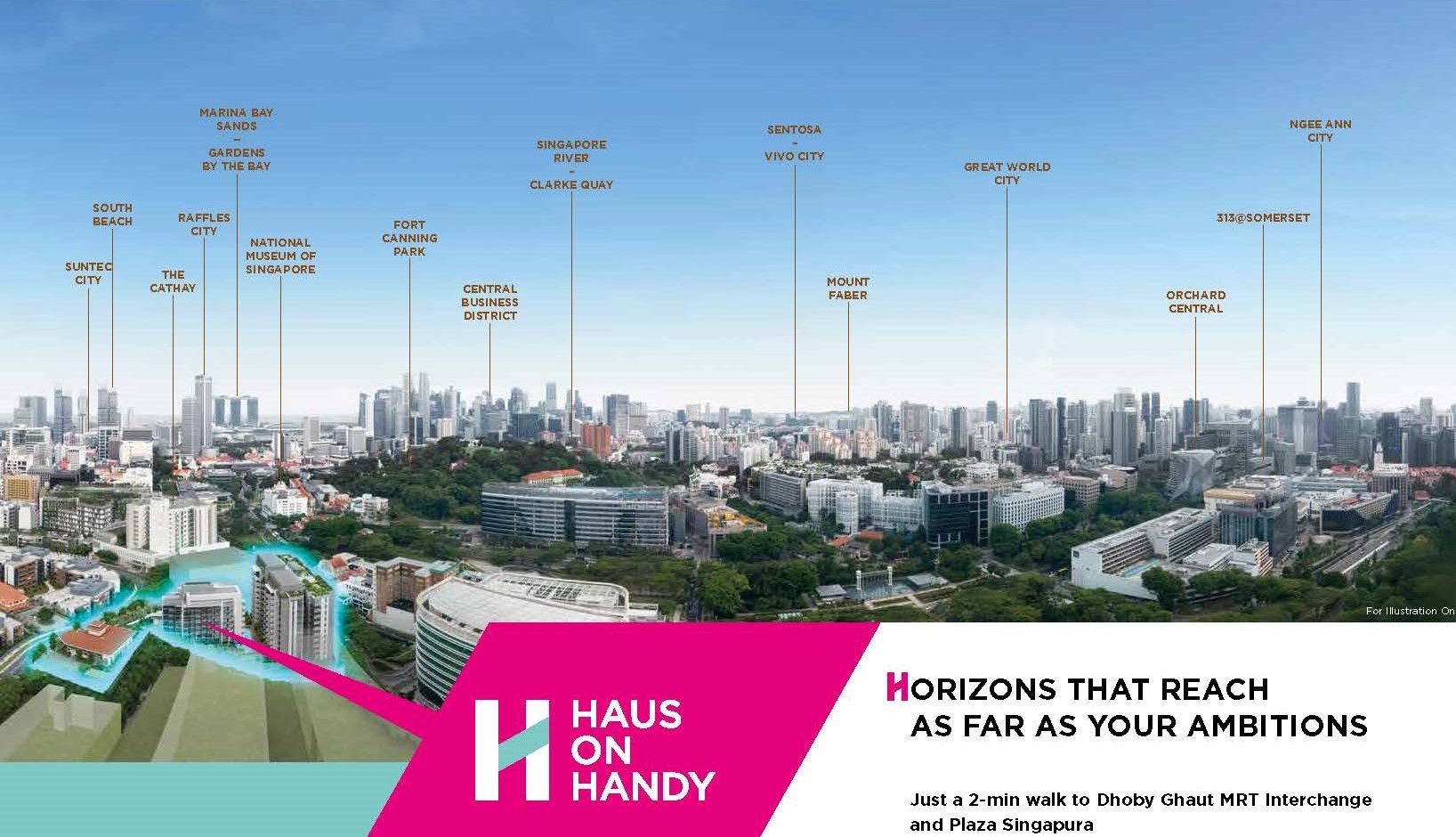 The unit is fitted with new & quality branded finishes. The impressive condo facility with theme gardens and unique club house experience at the heritage bungalow up in the hill comes with signature residential hosts offering curated conceirge services.
Not to forget that Dhoby Gaut is rich with history. Heritage buildings and sites are witness to the journey of Singapore from centuries ago. While living in the modern and vibrant Orchard area, being surrounded by historical sites and buildings is priceless experience.
Haus On Handy is near reputable schools, from primary school level all the way to tertiary and university level, among others: St. Margaret's Primary School (<1km), Anglo-Chinese School (Junior) (<1km), Chatsworth International School (Orchard) (<1km), Singapore Management University (<1km), School of the Arts (<1km), Nanyang Academy of Fine Arts (NAFA), Lasale College of The Arts, etc.

ORCHARD REJUVENATION & BRING BACK THE ORCHARD
The government has announced the future plan for Orchard Road, aiming to transform Singapore's main shopping belt into a "must-visit" lifestyle destination. In order to strengthen Orchard Road's position as a lifestyle destination, the plans aim to offer experiences to bring out the unique identity of its four sub-precincts - Tanglin, Orchard, Somerset and Dhoby Ghaut.

We extract below the information on Orchard Road rejuvenation and Bring Back the Orchard from the URA official website for your benefit to have more information about future Orchard Road.
From https://www.ura.gov.sg/Corporate/Media-Room/Media-Releases/pr19-06
Plans to enhance Orchard Road as a Lifestyle Destination unveiled
Immediate initiatives include the launch of Design Orchard and a one-year trial to curate pop-up experiences along the pedestrian mall.
The Singapore Tourism Board (STB), Urban Redevelopment Authority (URA) and National Parks Board (NParks) announced plans to strengthen Orchard Road's position as a must-visit lifestyle destination.
Minister for Trade and Industry and Co-Chair of Ministerial Steering Committee for Orchard Road Chan Chun Sing said, "Against the backdrop of increasing competition from other cities and the evolving retail landscape, Orchard Road has remained at the forefront of consumer trends to stay relevant to local and international visitors. This was made possible with the public and private sectors working together to bring in innovative concepts and exclusive retail offerings. We will continue our partnership with the private sector to develop Orchard Road as a vibrant lifestyle destination that offers an exceptional experience beyond retail."
The plans were unveiled after STB, URA and NParks, together with the Land Transport Authority, embarked on a review of the future plans for Orchard Road. During the exercise, consultations were held with private sector stakeholders, alongside a study1 led by international cities and property consulting firm Cistri Pte Ltd.
The plans have two main thrusts: to make Orchard Road 'The Lifestyle Destination'; and to 'Bring Back the Orchard'.
The Lifestyle Destination
As a lifestyle destination, Orchard Road will offer differentiated experiences to bring out the unique identity of each sub-precinct2. Innovative retail concepts, attractions, entertainment and events will be introduced at each sub-precinct to cater to the varied interests of visitors. Side streets such as Killiney Road and Orchard Turn will also be enhanced to allow visitors to discover the lesser known parts of the precinct and better connect Orchard Road to the surrounding neighbourhoods.
Tanglin
New lifestyle experiences can be introduced at Tanglin to strengthen its identity as a mixed-use neighbourhood with a strong arts and artisanal flavour. For instance, the conserved Tudor Court can be used to house more arts, cultural and lifestyle offerings. The upcoming opening of the Orchard Boulevard MRT station on the Thomson-East Coast Line will bring added convenience to visitors in this sub-precinct.
Orchard
At the centre of Orchard Road is the main shopping belt around Orchard and Somerset MRT stations, which will remain the retail heart of Singapore. The shopping experience can be enhanced through more street activities and better pedestrian connectivity.
Come April 2019, the Orchard Road Business Association (ORBA) will start a one-year trial to bring in experiential activities to enliven event spaces along the pedestrian mall in Orchard Road. These activities could range from retail and food and beverage pop-ups to arts and entertainment events.
Future mixed-use developments will be built at the upcoming Thomson-East Coast Line Orchard Interchange MRT station. These will be well connected to Orchard Road through side streets to bring more people and add buzz and vibrancy to the precinct.
Elevated link bridges can make it easier for visitors to cross the junction of Orchard-Paterson Roads, as well as provide opportunities for a picturesque shot of Orchard Road.
Somerset
Somerset, already known as a youth hub, can be further enhanced with new lifestyle offerings catering to youths. For instance, the Grange Road car park can be transformed into a dynamic event space, where activities are regularly refreshed.
The newly-opened Design Orchard is a significant milestone in making Orchard Road a Lifestyle Destination. Through its retail showcase of home-grown brands, incubation spaces and rooftop amphitheatre, Design Orchard will inject greater retail diversity to Orchard Road, as well as offer promising brands an unparalleled opportunity to present themselves in a world-class location.
These new developments can be better connected via sculptural canopies, providing shelter and seamless connectivity at this busy intersection, while creating another signature node on Orchard Road.
Dhoby Ghaut
Dhoby Ghaut is envisaged as a family-friendly lifestyle zone, nestled in lush greenery. Existing green spaces at the Istana Park, Dhoby Ghaut Green and the open space at Plaza Singapura can be linked up by pedestrianising a section of the road. More space will be available to create children play areas and flexible event venues for festivals and fashion shows.
Bring Back the Orchard
Over the years, Singapore has acquired an international reputation as a City in a Garden. Coupled with Orchard Road's origins as a nutmeg, clove and fruit orchard, there is an unprecedented opportunity for the precinct to be distinguished from other international shopping streets by Bringing Back the Orchard.
Orchard Road is envisaged as a lush green urban corridor connecting the historical green spaces: Singapore Botanic Gardens and Fort Canning Park. The streets can be enhanced through a curated showcase of vibrant trees and shrubs that depict the colours of the tropics. Nutmeg and cloves can also be incorporated in strategic locations, to draw back to Orchard Road's origins. Additionally, Istana Park can also be rejuvenated with themed gardens inspired by the botanical and horticultural traditions and practices seen throughout Singapore's history.
"All cities have their own popular shopping streets and neighbourhoods. In Singapore, Orchard Road is our premier shopping district.  But it is facing stiff competition from other cities, and has to adapt to rapidly changing retail trends. That's why government agencies have been working with private sector stakeholders on the rejuvenation plans for Orchard Road.  We have put together these ideas to illustrate the possibilities of making Orchard a place for all to experience and enjoy. Orchard Road is not a greenfield site.  It is a 2 km long major thoroughfare in our central area, highly built up on both sides of the road. So any changes will take time and will require actions from both the government and private sector. We will continue to take in feedback and suggestions, and work with all stakeholders to refine and progressively implement the plans to make Orchard Road a great street in our City in a Garden," said Minister for National Development and Co-Chair of Ministerial Steering Committee for Orchard Road Lawrence Wong.
Mr Philip Ng, Chief Executive Officer, Far East Organization, said: "The upcoming plan to transform Orchard Road must be underpinned by collaboration at many levels between the private and public sectors. Retail is Detail, and Orchard Road's transformation into a bustling lifestyle destination will require a robust partnership. We must all do our part."
"My first impressions of Orchard Road started with the Mont D'or cake shop and the first Herbie Volkswagen on display in the 1970s. Since then, I am always pleasantly surprised by the constant evolution of this street. The proposed plans for Orchard Road are something I look forward to, and will serve to position Orchard Road as one of the premier lifestyle destinations in the world," said Mr Ho Sing, Chief Executive Officer, YTL Starhill Global REIT Management Limited.
Public Exhibition at Orchard Fountain Corner
A public exhibition on the future plans for Orchard Road will be held at Orchard Fountain Corner beside 313@Somerset from 30 January to 13 February, where the public is welcome to visit and share their feedback. Public can also learn about the Orchard Road plans and share their feedback at https://ura.sg/orchardrd till 31 May 2019.
---
1 The study was conducted by a multi-disciplinary team led by Cistri Pte Ltd and included DP Architects Pte Ltd, Arup Singapore Pte Ltd, DataSpark, Future Cities Laboratory and Rider Levett Bucknall.
2 The sub-precincts are Tanglin, Orchard, Somerset and Dhoby Ghaut.
More on Orchard Road Rejuvenation:
https://www.ura.gov.sg/Corporate/Get-Involved/Plan-Our-Future-SG/Orchard-Road/Bring-Back-the-Orchard
https://www.channelnewsasia.com/news/singapore/more-greenery-street-activities-to-make-orchard-road-a-lifestyle-11185058
Illustration on Bring Back The Orchard

ABOUT CITY DEVELOPMENTS LIMITED
City Developments Limited (CDL) is a leading global real estate operating company with a network spanning 103 locations in 29 countries and regions. Listed on the Singapore Exchange, the Group is one of the largest companies by market capitalisation. Its income-stable and geographically-diverse portfolio comprises residences, offices, hotels, serviced apartments, integrated developments and shopping malls.
With a proven track record of over 55 years in real estate development, investment and management, CDL has developed over 43,000 homes and owns over 18 million square feet of lettable floor area globally. Its diversified global land bank offers 4.1 million square feet of developable gross floor area.
The Group's London-listed subsidiary, Millennium & Copthorne Hotels plc (M&C), is one of the world's largest hotel chains, with over 135 hotels worldwide, many in key gateway cities.
As a property pioneer, CDL has been honoured with numerous awards and accolades that reflect its commitment to its stakeholders. Many of these Corporate, Environmental and Project Awards have been conferred in recognition of its business excellence and ability to create and manage some of the world's iconic homes and state-of-the-art offices.
ICONIC HOMES BY CITY DEVELOPMENT LIMITED