Home Within The Green Oasis
If you have only 1 chance to invest in property, you will sit down and carefully list all benchmark a property should possess to come up as a winner at the end of the day. Traditionally you will fiercely question if the property is in the right location, if it has demand for tenancy, if it has a good transportation connectivity, if it has amenities, if it has future potential upside yield, and if the property is rightly priced. Any investor will tend to take action when the property possess these benchmarks.
HAUS ON HANDY
HAUS ON HANDY without doubt located in excellent downtown core central region, Dhoby Gaut, in district 9 of Singapore. It offers much more than the traditional investment benchmark. First and foremost it is located in Orchard Road area, a place well known by foreigners high and low, a place where the rich is proud of having such identity to be living in Orchard area, an area with excellent connectivity. HAUS ON HANDY located just next to Dhoby Gaut MRT station, and next to Plaza Singapura where you find anything you need for your daily necessity. It is also centrally located near the Central Business District where hundred of thousand of professionals commute daily on the busy weekdays.
DHOBY GAUT
Dhoby Gaut, where HAUS ON HANDY located, is recently in the news for all good reason as one of the 4 Orchard Road precincts to be rejuvenated. Bring Back The Orchard! Dhoby Gaut is the real City in the Garden, with the existing heavenly green place of The Istana, and the Istana Park, and the historical Fort Canning Park. Indeed it is not enough for Dhoby Gaut, the already green and vibrant area will have much more. There is potential to enhance the connections between the open spaces to create a continuous green oasis comprising Istana Park, Dhoby Ghaut Green and Plaza Singapura. One possibility is to pedestrianise the section of Orchard Road at this location. Above Dhoby Ghaut MRT station, it is possible to introduce new family-friendly features and play areas for children within a lushly landscaped setting. A new sheltered event space will allow for a variety of public events to take place. These will add to the appeal of Orchard Road as a vibrant destination for families.

Find out more about Orchard Road Rejuvenation here:
LOCATION MAP - HAUS ON HANDY
PROJECT INFORMATION
Project Name
HAUS ON HANDY
Developer
CDL Regulus Pte.Ltd.
(A Wholly-owned subsidiary of City Developments Limited)
Location / Address
28 & 30 Handy Road (Residential)
18 Mount Sophia (Club Haus)
District
09
Description of Property
2 blocks of 9 and 12 storey condominium development
No. of Units
188 residential units
Tenure of Land
99-year leasehold commencing from 7 May 2018
Expected Vacant Possession
31 July 2023
Site Area
Approx. 4,796.2 sqm / 51,626 sqft
Carpark Lots
Estimated 113 (excluding 3 handicap lots)

UNIT DISTRIBUTION CHART


| Type | Est. Area (sqft) | Total Units |
| --- | --- | --- |
| 1-Bedroom | 420 - 570 | 36 |
| 1-Bedroom + Study | 517 - 624 | 36 |
| 2-Bedroom | 592 - 764 | 58 |
| 2-Bedroom + Study | 678 - 926 | 32 |
| 3-Bedroom | 947 - 1141 | 20 |
| 3-Bedroom DK | 980 | 6 |
| | Total | 188 |
SCHEMATIC DIAGRAM
SITE PLAN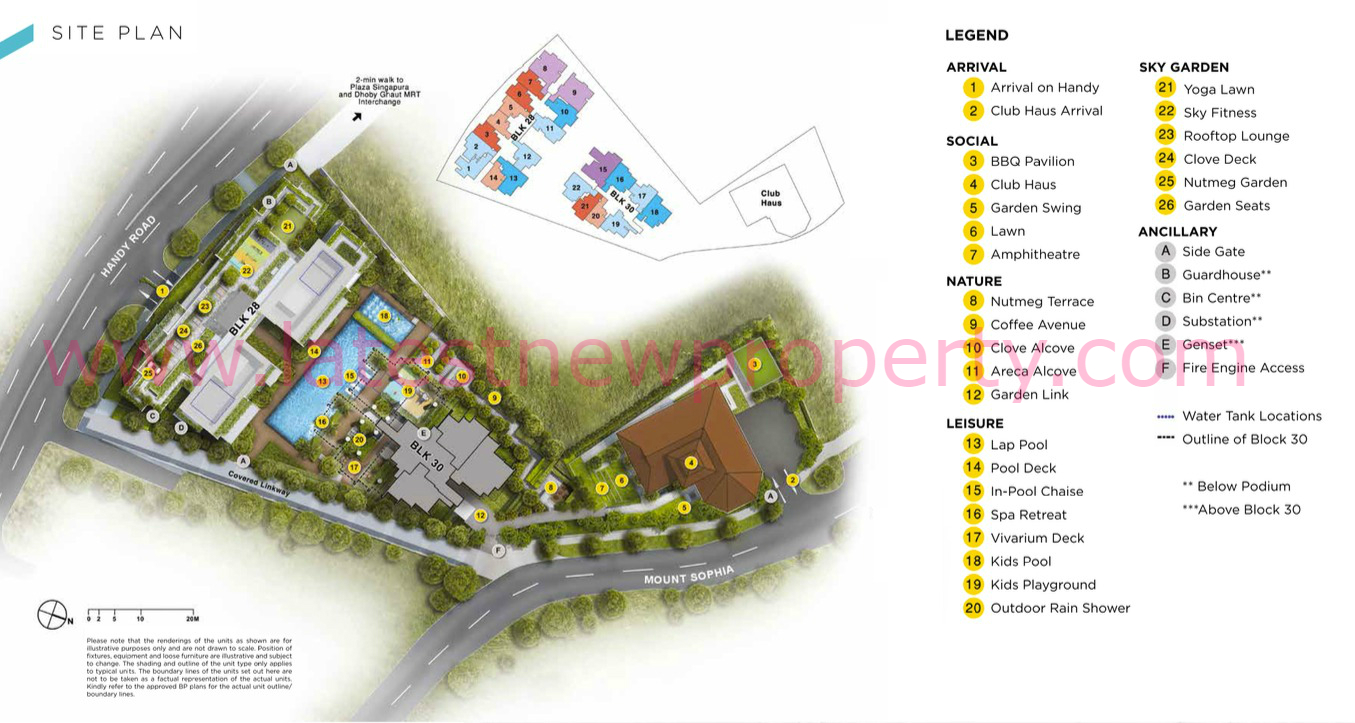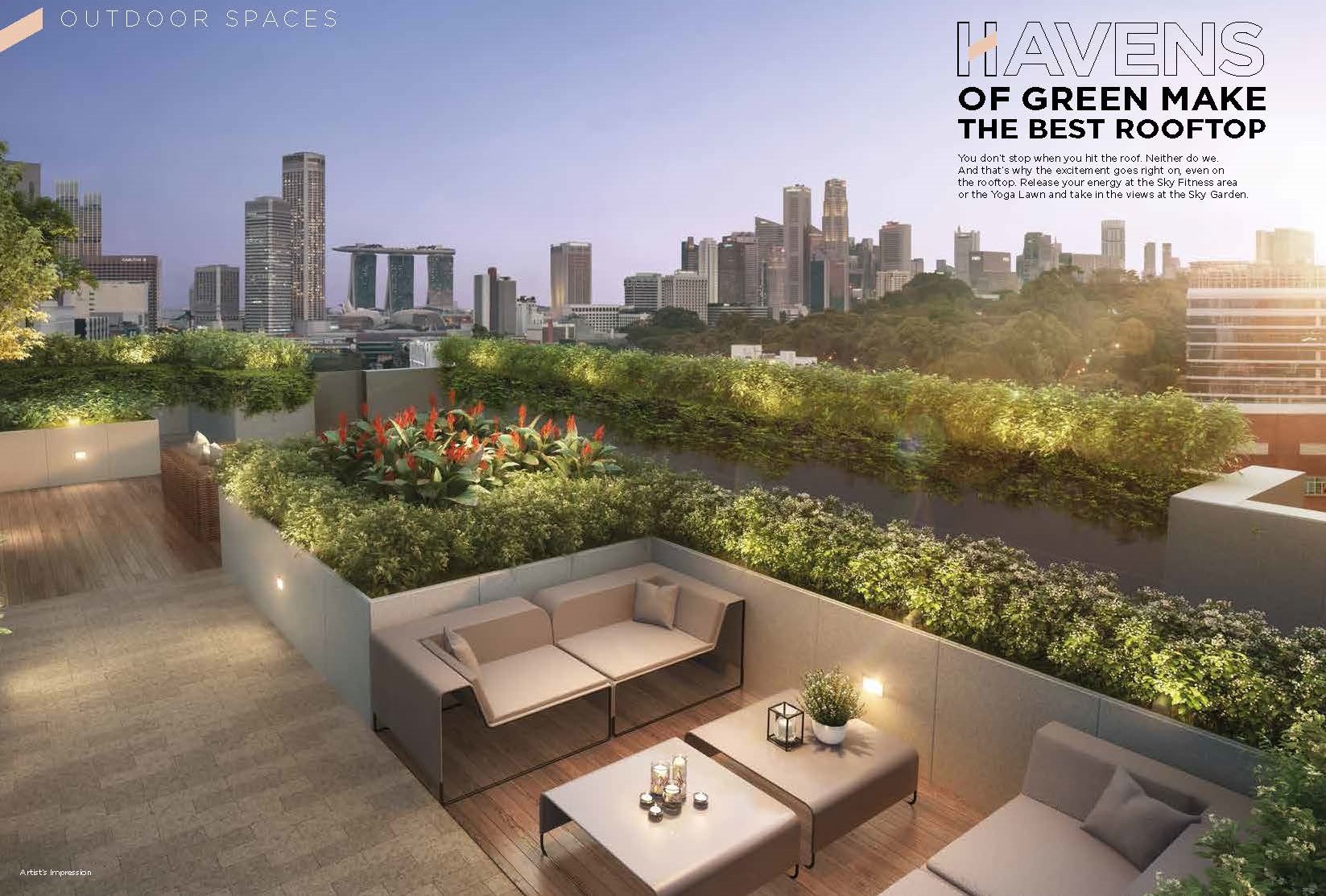 WHY HAUS ON HANDY
Location wise, HAUS ON HANDY is centrally positioned in downtown Orchard area where many local and foreign establishments operate. Central Business District is its neighbour, within 10 minute journey by train.
Transport connectivity is something to boast about. Plenty of public buses come from and travel to many parts of Singapore. In addition, Dhoby Gaut MRT station which is just in front of Haus On Handy is the interchange of 3 MRT lines, i.e. North South line, North East line, and Circle line. It is also a stroll walking to Downtown line MRT station (Bencoolen MRT). Amenities are at the corner of the road where residents can do grocery shopping, banking, dining, and doing other shopping. World class high end retailers are also a short trip from Haus On Handy.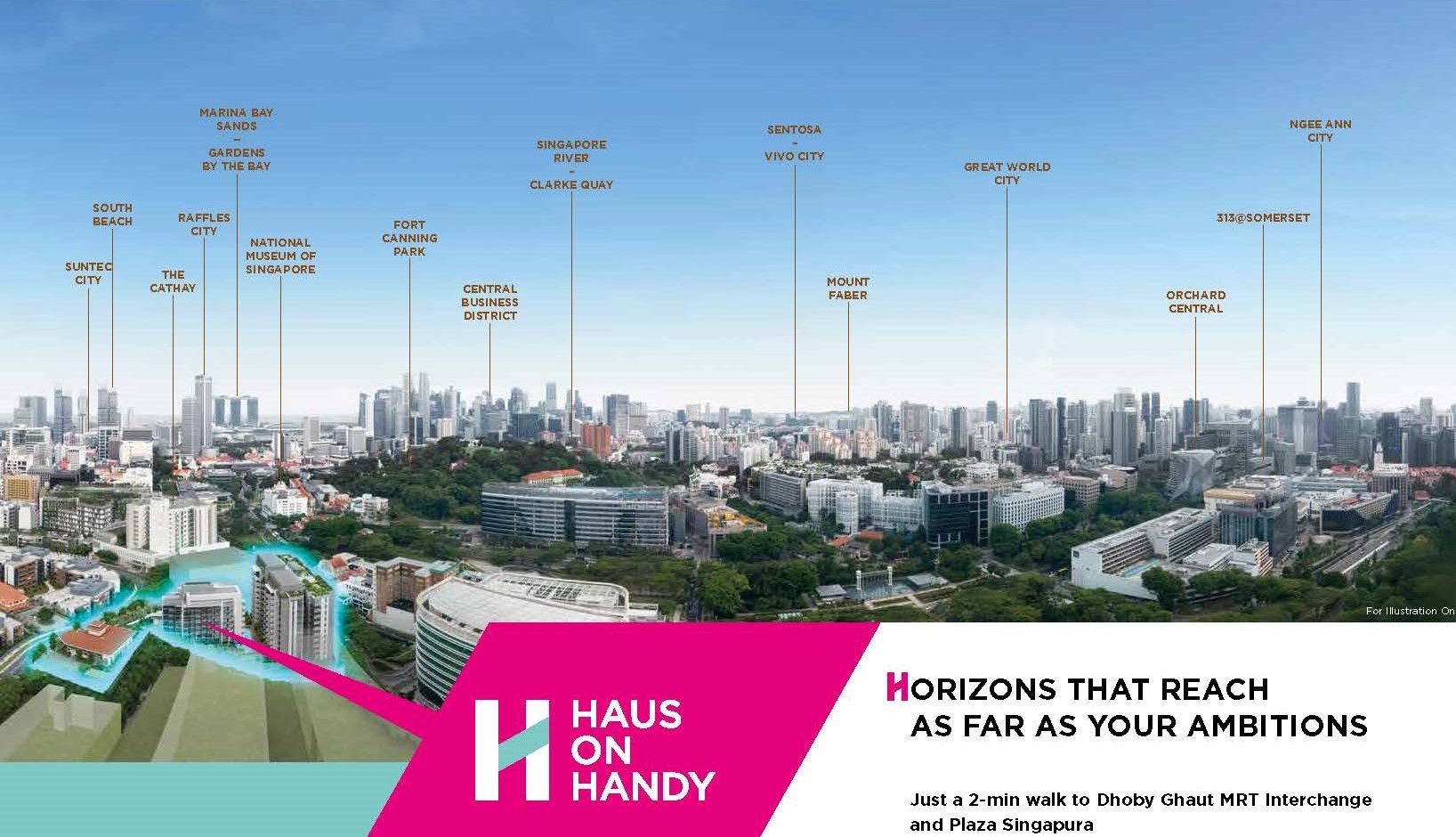 The unit is fitted with new & quality branded finishes. The impressive condo facility with theme gardens and unique club house experience at the heritage bungalow up in the hill comes with signature residential hosts offering curated conceirge services.
Not to forget that Dhoby Gaut is rich with history. Heritage buildings and sites are witness to the journey of Singapore from centuries ago. While living in the modern and vibrant Orchard area, being surrounded by historical sites and buildings is priceless experience.
Haus On Handy is near reputable schools, from primary school level all the way to tertiary and university level, among others: St. Margaret's Primary School (<1km), Anglo-Chinese School (Junior) (<1km), Chatsworth International School (Orchard) (<1km), Singapore Management University (<1km), School of the Arts (<1km), Nanyang Academy of Fine Arts (NAFA), Lasale College of The Arts, etc.

ABOUT CITY DEVELOPMENTS LIMITED
City Developments Limited (CDL) is a leading global real estate operating company with a network spanning 103 locations in 29 countries and regions. Listed on the Singapore Exchange, the Group is one of the largest companies by market capitalisation. Its income-stable and geographically-diverse portfolio comprises residences, offices, hotels, serviced apartments, integrated developments and shopping malls.
With a proven track record of over 55 years in real estate development, investment and management, CDL has developed over 43,000 homes and owns over 18 million square feet of lettable floor area globally. Its diversified global land bank offers 4.1 million square feet of developable gross floor area.
The Group's London-listed subsidiary, Millennium & Copthorne Hotels plc (M&C), is one of the world's largest hotel chains, with over 135 hotels worldwide, many in key gateway cities.
As a property pioneer, CDL has been honoured with numerous awards and accolades that reflect its commitment to its stakeholders. Many of these Corporate, Environmental and Project Awards have been conferred in recognition of its business excellence and ability to create and manage some of the world's iconic homes and state-of-the-art offices.
ICONIC HOMES BY CITY DEVELOPMENT LIMITED