70 St Patrick's
Award Winning Best Residential Development 2014, by UOL Group
About Seventy St Patrick's & East Coast area location
Seventy St Patrick's was launched in September 2014 and has garnered excellent responses from buyers who are seeking property for family dwelling or investment purpose in district 15 of Singapore. As of January 2015 Seventy St Patrick's has sold around 80% of its total units and continue to have appeal for potential investors due to many factors. The sales is a remarkable achievement especially during the low sentiment in property market.
Seventy St Patrick's is a condominium development located at 70 St Patrick's Road in East Coast area. The location of the development is surrounded by 3 major roads, i.e. Marine Parade Road, Upper East Coast Road, and Telok Kurau Road and can be accessed from these 3 roads. The strong response from buyers was expected. The location is undoubtedly appealing for both locals and foreigners due to its proximity to many prestigious schools and leisure activity area East Coast Park. Seventy St Patrick's is also very appealing because of its freehold status and the upcoming future Marine Terrace MRT Station at its door step.
East Coast area where Seventy St Patrick's located has long been popular for its Peranakan Heritage, splendid eateries which serve sumptuous local and western cuisines, shopping malls, and the East Coast Park which is heaven for many leisure activities from jogging, cycling, roller blading, sea sport activity to family picnic, and group BBQ. There are also many eateries at East Coast Park from the local style Lagoon hawker centre to popular seafood restaurants such as Long Beach restaurant, Jumbo restaurant, etc. The park connectors are built at some points from Tanjung Rhu area all the way to Bayshore area to facilitate residents to easily go to East Coast Park.
Currently Seventy St Patrick's is only 3 bus stops away from the most vibrant place in Marine Parade area where the very popular Parkway Parade mall located. Parkway Parade mall is an icon to Marine Parade and East Coast area. It was built in 1984 and was made over in 2002. It houses many popular tenants from retails, F&B, local and foreign banks, and Giant supermarket. Parkway Parade is adjacent to hawker centre and local shops. One can imagine how vibrant these location is. 
To add more colors and live to East Coast area vibrant living a new mall at Upper East Coast road, I12 Katong, has been up and serving residents in the past few years. There are also many eateries along East Coast Road, from local style coffee shop to modernly designed  restaurants serving popular delicacies. The many kinds of food along this road have been very familiar to singaporeans even outside district 15, such as the popular Katong Laksa, Boon Tong Kee Chicken Rice, Beach Road Prawn Noodles, Astons, Al Forno, Margarita's, etc.
LOCATION
Seventy St Patrick's Location Map
WHY Seventy St Patrick's?
Seventy St Patrick's is excellent for both family dwelling and investment for the following reasons:
Freehold 

District 15

Future Marine Terrace MRT at door step

Underground MRT (seamless, not noisy)

7 stations to Marina Bay, 7 stations to Changi Airport, and 12 stations to Orchard 

Within 1 km to reputable schools 

Eateries & Traditional market is just across Marine Parade road for daily convenience

Amenities such as banks, malls, hawker centre, traditional markets and local shops, popular eateries and restaurants for both local and western cuisines are just few bus stops away

East Coast Park for leisure activities and recreation

Excellent connectivity to CBD and Changi Airport via ECP and MCE (5 lanes)

Resort style development

Splendid landscaping 

Located in a serene, tranquil, and private landed property enclave. 

Award Winning: Best Residential Development 2014 

No bay window, no planter, no bomb shelter, all rooms are regular shape, spacious, quality imported branded fittings. 

Most of the units have landscaping facing, and 45% of the units have dual view

Attractive price for such attributes. 

Choices of 2/3/4DK/Penthouse 

Built for you by reputable developer UOL. 
Thomson-East Coast Line to run through estates in the east including Marine Parade 
The eastern stretch of the TEL will have nine stations running from Sungei Bedok to Tanjong Rhu. The line will then connect northwards to 22 other stations. The stations along the northern stretch were announced earlier under the Thomson Line.
The Land Transport Authority announced on Friday the station locations along the eastern stretch, or what was originally referred to as the Eastern Region Line.
The 13km eastern stretch will run through the neighbourhoods of Tanjong Rhu, Katong Park, Amber, Marine Parade, Marine Terrace, Siglap, Bayshore, Bedok South and Sungei Bedok. The first seven stations, from Tanjong Rhu to Bayshore, will be ready in 2023. The stations in Bedok South and Sungei Bedok will be ready in 2024.
When the 43km-long TEL is completed in 2024, a trip from East Coast Park to Orchard is expected to take just 45 minutes, compared to 75 minutes. Commuters travelling from Marine Parade to the Central Business District will halve their travel time from 40 minutes to 20 minutes.
Transport Minister Lui Tuck Yew announced these details on Friday at a visit to the Marina South Pier station, which is part of the North-South Line and will be opened by the end of the year. He said the eastern section of the TEL is expected to cost $6.8 billion, bringing the total budgeted cost of the TEL to about $24 billion.
The TEL will also connect with the upcoming Downtown Line which will have a new extension consisting of the Xilin station and the Sungei Bedok interchange station. This is to improve public transport accessibility to the Changi Business Park and Expo areas, he said.
The 31 stations of the TEL are expected to serve about half a million commuters daily in the initial years and twice that in the long term. To make way for the construction of the eastern stretch of the line however, six landed properties along Amber Road and a three-storey apartment along Tanjong Katong Road will be acquired.
The world's first four-in-one train and bus depot will also be built with the TEL. It will house buses and trains for the TEL, East-West Line and Downtown Line. The 36ha depot can house about 220 trains and 550 buses and integrating the depot for both buses and trains will help to save close to 60 football fields of land space.
Tenders for the new Line will be put out next year and construction is expected to start in 2016.
- See more at: http://www.straitstimes.com/news/singapore/transport/story/new-thomson-east-coast-line-run-through-estates-the-east-including-ma#2
Seventy St Patrick's is an Excellent Condominium in Excellent Location of District 15
Seventy St Patrick's is excellent for families who want to send their children to reputable schools.
Primary schools within 1 km: Tao Nan School, CHIJ Katong Primary, Ngee Ann Primary. Secondary schools within 1 km: St Patrick's School, CHIJ Katong (Convent). Junior college within 1 km: Victoria Junior College. There is also a kindergarten nearby: NAFA Arts Kindergarten at Upper East Coast Road.
Seventy St Patrick's is excellent location for amenities. It eases everyday life. Parkway Parade mall is only 3 bus stops away (it will only be 1 MRT station away in the near future) and it houses Giant and Cold Storage Supermarkets. Adjacent to the mall is another famous supermarket NTUC Fairprice, and the POPULAR book store. A hawker centre and traditional market and local shops also add value to the location for more amenities. Parkway Parade mall makes shopping experience fun and much easier to the residents. Fashion, shoe, accessories, personal care products, spas and hair salons are easy to find. It has long standing and popular retailers such as Isetan, Giordano, Charles & Keith, Batta Shoes, Harvey Norman, Best Denki and many others. Doing banking transactions are also less stress in this area. Banks such as Citibank, HSBC, UOB, DBS, Standard Charttered, ANZ Bank, OCBC are all in Parkway Parade mall and adjacent building.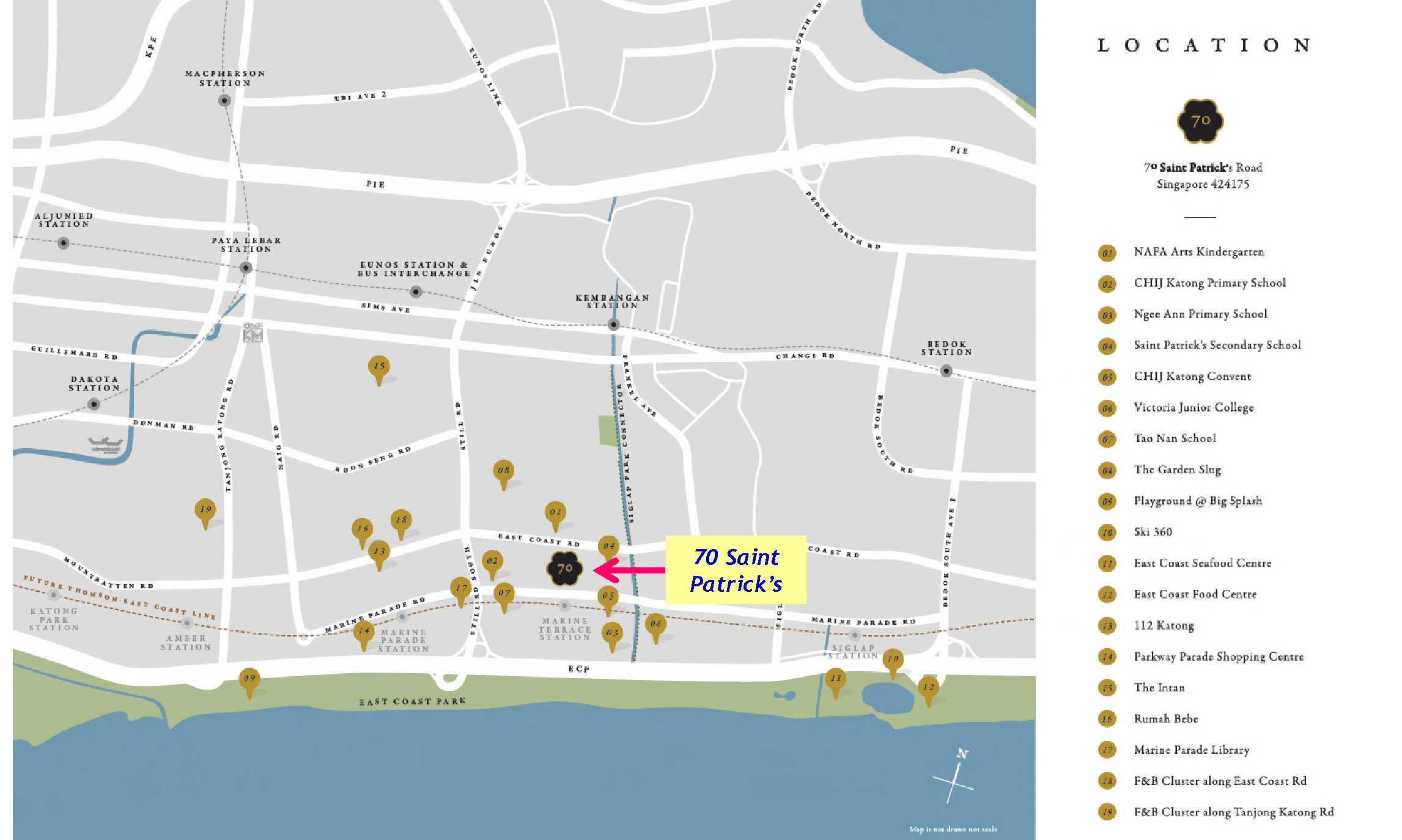 Seventy St Patrick's is excellent for people who wants the convenience of commuting to office in CBD area and Changi International Airport. The condo is served by many buses going all over Singapore. It also very near to ECP express way leading to MCE which has 5 lanes to ease the journey to CBD as well as to east and north east area of Singapore
Seventy St Patrik's is an excellent dwelling place to balance life and work. Within the condo itself residents will experience tranquility and serene environment with full facility. The condo is built to emulate resort style: greenery, water feature, low rise. And beyond the condo residents can enjoy active lifestyle. Walking to East Coast Park for brisk walk, jogging, cycling, roller blading, sea sport activity, picnic, BBQ, seafood restaurants.
Seventy St Patrick's is excellent as investment vehicle. Property is one of investments that has been proven in capital appreciation over long time period. Besides, it also serves as regular income for investors. Seventy St Patrick's is a good investment property because the future MRT station is at door step. As quoted from Money Section of The Straits Tmes, August 23, 2014: New MRT Line may perk up home sales.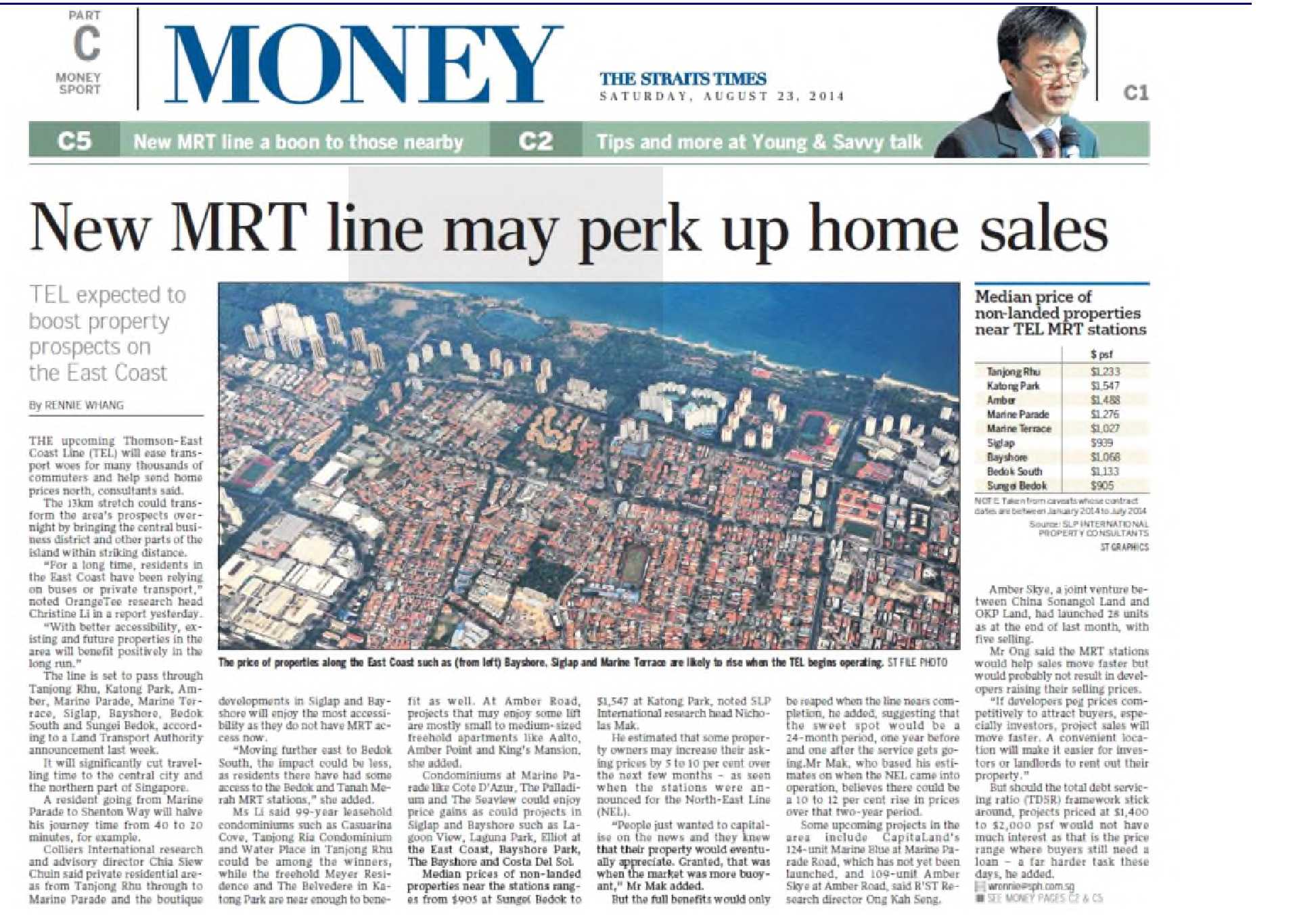 PICTURE GALLERY
Showflat: 2 Bedroom (Type A2G, 872 sqft) & 3 Bedroom (Type B4, 1270 sqft)