KINGSFORD WATERBAY
Every Home Has a View
Kingsford Waterbay Condo & The Location
Kingsford Waterbay is a new launch condominium located at Upper Serangoon View in district 19 of Singapore. It is developed by Kingsford Property Development. The plot of land is unbelievably beautiful, longish and spread along Sungei Serangoon. More than half of the total units will have unblock view by Sungei Serangoon river and the rest of the units will have the beautiful swimming pool and landscaping view. Along Sungei Serangoon river is a park connector where nearby residents enjoy the nature, and have sport activities like jogging, brisk walking, cycling, and outdoor fitness. Residents of Kingsford Waterbay can also go to the nearest Punggol Park for more sport activity facilities.
Kingsford Waterbay condo, a 99 year lease development, consists of 1 Bdrm/ 2 Bdrm/ 3 Bdrm/ 3+Study/ 3 Bdrm Dual Key/ 4 Bdrm/ 5 Bdrm/ Strata Terrace/ Strata Semi-D. The condo facility in Waterbay is beyond expectation and is dedicated for the enjoyment of residents. It has full facility including an impressive river like swimming pool, the longest in Singapore, total of 250 metres. Kingsford Waterbay is truly a home for family as well as for investment.
Developments near Kingsford Waterbay condo are Rio Vista condo and The Florida condo at its left side, and Serangoon Secondary School, Boathouse Residences, and Heron Bay at its opposite. Kingsford Waterbay condo is also near to Punggol Park, a much bigger national park facility which includes a restaurant. The nearest MRT stations will be Hougang MRT station and Buangkok MRT station.  The 2 MRT stations are only few bus stops away. Kingsford Waterbay condo is also a short drive to TPE and KPE. This will give convenience to reach CBD and other parts of Singapore. It will take approximately 18 minute drive to CBD and Marina Bay Financial Centre, 14 minute drive to Changi Airport.
Amenities nearby Kingsford Waterbay are within reach by few bus stops, such as the 24 hour NTUC Fairprice at Kang Kar Mall, and Hougang Mall which includes retail outlets of fashion, sport, shoe, restaurants and food court, etc. Adjacent to the Hougang Mall is the local shophouses and coffee shops. Kingsford Waterbay is also a self contained develpment where it will have 6 retail shops and a Childcare Centre.
Kingsford Waterbay is located in the heart of the New Integrated Hougang Estate (read under URA Master Plan).
Kingsford Waterbay - Development Attributes
1) Efficient unit size & with regular shape layout
2) Very affordable quantum: 1 BR from $5xxK!  2 BR from $6xxK!  3 BR from $8xxK!
3) Good potential appreciation & higher rental yield as the entry level is low
4) ICONIC development in the locality
5) Every home has a view, i.e. either SCENIC RIVER VIEW which stretch over 400 metre OR BEAUTIFUL POOL VIEW, the longest river like pool of 250 metre!
6) Facilities exceeding expectation! In 6 Sensorial Zones: The Stream, The River, The Cove, The Waterfall, The Promenade, The Club
7) Near renowned schools including Holy Innocents' High School & CHIJ Our Lady of The Nativity
8) Near famous eateries & amenities at Kovan (Heartland Mall) & upcoming Market Square
9) Convenience right at your door step with 6 retail shops & 1 childcare centre
10) Free Shuttle Service to Hougang Central / Hougang MRT
11) Close to Hougang Centre which will be soon be rejuvenated with a landmark mix-used development comprising commercial, retail and integrated with bus interchange/MRT, with new community club & plaza space.
12) Easy access to KPE/TPE which only takes about
12 minutes' drive to Seletar Aerospace & Seletar Regional Centre

14 minutes' drive to Changi Airport / Changi Business Hub

18 minutes' drive to Suntec City / Central Business District / Marina

Bay

Sands
13) New Integrated Hougang Estate (read further under URA Master Plan)
About District 19
(source: Property Guru, February 5, 2014)
Hougang, Punggol, Sengkang and Serangoon Gardens make up Singapore's District 19, an area known for its residential areas and its number of parks, reserves and recreational facilities. Punggol in particular is known for the Punggol Waterway Park, where nature lovers, cyclists, joggers and the like can go for some peace and quiet. But that's not all: the area is being made more accessible with big plans for future public transport developments.
ALL ABOUT CONNECTIONS
As with any attractive residential or commercial area, District 19 is set to feature an impressive public transport network that will make it easily accessible and well connected to the rest of the country. Under the Land Transport Authority's (LTA) Masterplan 2013, the future MRT Cross Island Line (CRL) will intersect with the North-East Line (NEL) at Hougang and connect Punggol to Pasir Ris.
Evan Chung, Vice President (Resale Division) at DTZ Property Network, says: "While this might seem a long way off, with completion estimated for 2030, I'd have to say that developers and real estate salespersons are already using this as a selling point for projects in the area. And though prices of resale or new properties have yet to show any significant change due to such announcements, I believe the area's potential, especially with regards to improvements in connectivity, will positively affect demand. Initial respondents to this would of course be real estate, followed by buyers and investors."
DEVELOPMENTS GALORE
Of course, with District 19 becoming more appealing to potential buyers and investors, residential projects have been popping up all over the area. Several private residential developments in the district were launched and sold in 2013 alone, such as Midtown in Hougang, La Fiesta in Sengkang, The Tembusu in Kovan and Jewel @ Buangkok.
Projects in 2014 include Ecopolitan, Waterwoods (both executive condos), Rivertrees Residences, and UOL Group's Riverbank @ Fernvale, a condominium next to Sungei Punggol at Fernvale Close / Sengkang West Way.
Schools Nearby Kingsford Waterbay (within 1 km)
KINDERGARTEN
Nativity Church Kindergarten
PRIMARY SCHOOLS
CHIJ (Our Lady of Nativity)
Punggol Primary School
North Vista Primary School
SECONDARY SCHOOLS
Serangoon Secondary School
North Vista Secondary School
Holy Innocents' High School
Shopping Malls  & Grocery Within 10 Minute Drive 
Hougang Mall - within 2 minute drive
Kang Kar Mall - within 2 minute drive
Compass Point - within 2 minute drive
Heartland Mall - within 4 minute drive
Seletar Mall - within 4 minute drive
The Greenwich - within 5 minute drive
NEXX Mall - within 5 minute drive
AMK Hub- within 7 minute drive
Whitesands Mall - within 8 minute drive
IKEA - within 8 minute drive
Courts - within 8 minute drive
Giant - within 8 minute drive
Tampines Mall - within 10 minute drive
Tampines 1- within 10 minute drive
Centrury Square - within 10 minute drive
Commercial & Industrial Developments Nearby Kingsford Waterbay
Defu Aveneu 1 and Defu Lanes
Pasir Ris Wafer Park
Changi/Loyang Industries
Tampines Industries
Ang Mo Kio Industries
Sengkang West Industries
Waterbay Location Map & Amenities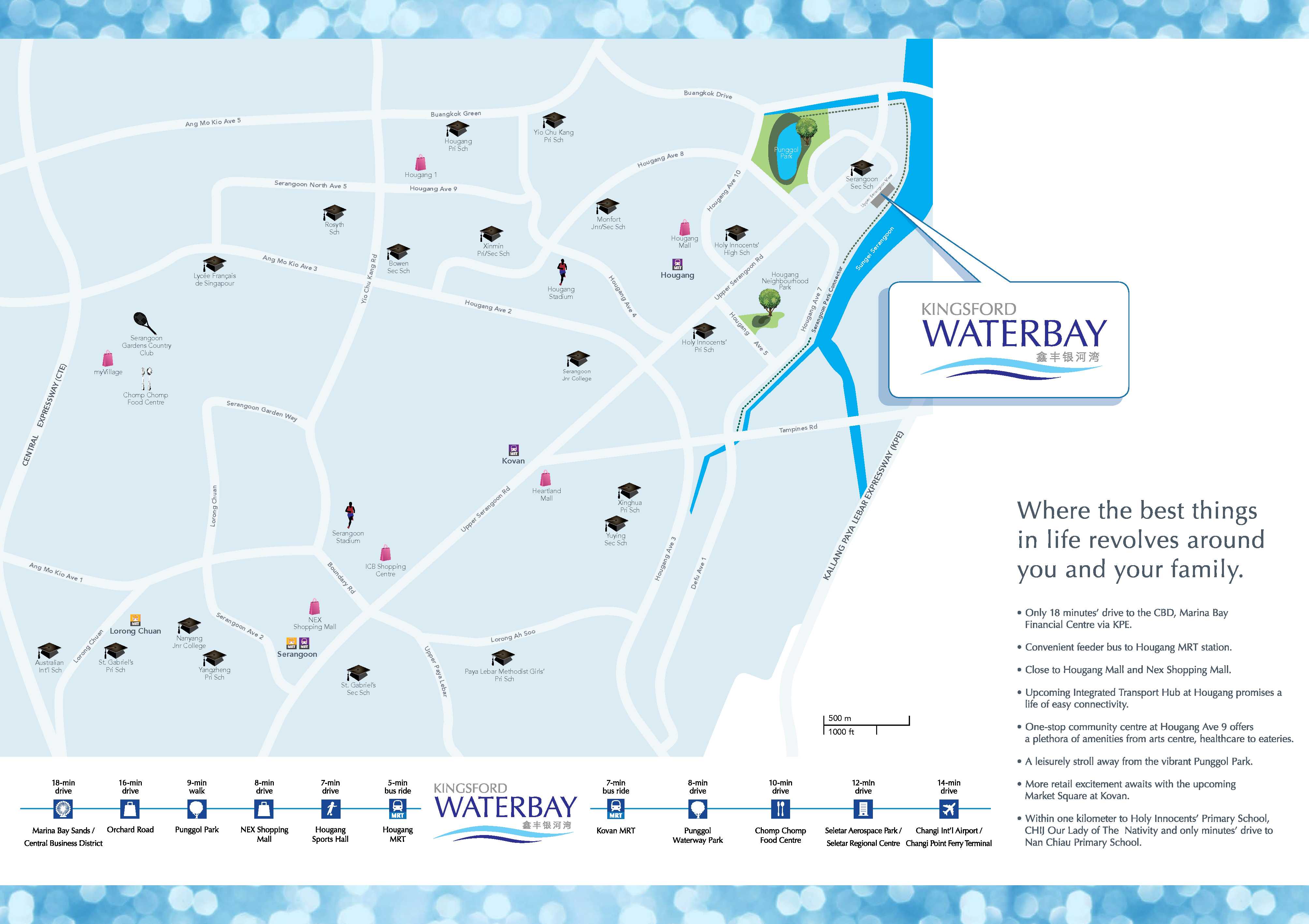 Kingsford Waterbay Floor Plan (1 & 2 Bedrooms)
(Click Picture To Enlarge)
Kingsford Waterbay Floor Plan (3/4/5 Bedrooms)
(Click Picture To Enlarge)
Kingsford Waterbay Floor Plan (Penthouse)
(Click Picture To Enlarge)
URA Master Plan
The main Remaking Our Heartland (ROH) plans to be implemented progressively over the next 5 years for Hougang are as follows:
Proposal:
Our Town Centre
Details:
A Key Landmark development, comprising a mixed commercial private residential development. This will be integrated with the bus interchange and HDB Hougang Branch office.
Details:
First Riverfront public housing in Hougang
Proposal:
Our Outdoor Playgrounds
Details:
"Hougang Walk" along Hougang Ave 10.
A scenic pedestrian walk aims to provide varying experiences:
Rustic

The street furniture such as seats and landscaping for the area located near the Punggol Park could be enhanced to reflect a rustic and tranquil environment within a park setting.
Life-style

There could be spaces near the Hougang Town Centre for multi-generational bonding and enhanced streetscape with new signages and lighting to improve orientation.
Improvement programme under the Active, Beautiful, Clean (ABC) Waters programme along the canals and the side walks with ABC features and partial decking.
Details:
Market Square next to the existing Heartland Mall shopping centre and Kovan MRT Station.
As part of the rejuvenation of Kovan City, spaces for kiosks and stroryboards of the past will be put up to reintroduce the social memories of the old Simon Road market.
Heritage Corner at Blk 805 Hougang Central
The Heritage Corner includes a pavilion and landscaping features with old imageries in information panels, seats, etc to celebrate the history of Hougang.
Two Key Offshoots
To give a stronger sense of arrival to the Town Centre, the two key entreances and roads leading to Hougang Town Centre from Upper Serangoon Road will be enhanced based on themes of Hougang in the past.
Heritage Corridor
The Heritage Corridor will be celebrated at its end with a corridor of commercial shops / eating places within a proposed public housing parcel next to Serangoon Reservoir. To further enhance the sense of place, the termination point could end with an observation deck with a small cluster of kiosks to activate the space next to the water edge.